Dog Adoption Saves Lives
Did you know that 25% of dogs rescued by the SPCA and HS are Purebreds?
- Dog Adoption -
Click Here to find a dog near you in need of rescue.

The Benefits of Adopting

There is more than one benefit to adopting an adult dog. If you're thinking about it, you're already on the right track and we applaud your consideration.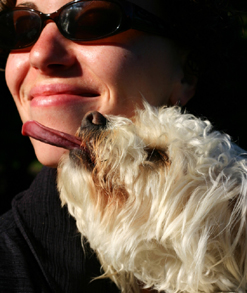 Opening your heart to a dog who needs you is the best feeling in the world. You'll never regret the decision to save a life and the dog you adopt will never stop showing you his gratitude. You'll be his hero. In return for your kindness, you'll get a dog who is already:

Housebroken
Socialized
Leash Trained
Out of his 'chewing phase'
Spayed or Neutered (most of the time)
Treated or evaulated for medical problems.

But best of all, you're saving a life... And not just one life, you're also saving the life of the next dog who might have otherwise been euthanized if you hadn't made the vacancy.

More than 7 million (otherwise loving and well behaved dogs) dogs are euthanized each year. And sometimes, not so humanely (examples- gas chambers and shooting!). Most of these poor animals were just the unfortunate victims of an irresponsible owner, but there are other reasons that good dogs end up in shelters- and 25-30% of them are purebreds!

Don't be fooled into thinking they're damaged goods. The Humane Societies and Rescue Groups, etc., evaluate the dogs extensively before placing them for adoption. They will be honest with you about any problems you could face with the animal, so you'll know exactly what you're getting. As opposed to the uncertainty that you'd face with a puppy, your odds are virtually 100% that you'll get exactly what you're looking for in a pet when you adopt an adult dog.

If you're thinking you can't find a purebred for adoption and you have your heart set on one specific breed, you might be surprised to learn that there is probably a Rescue Group near you. These selfless organizations (often breed specific) foster animals they find at local shelters or rescue from bad situations... And they will most likely have at least one dog, possibly even a puppy, with the exact characteristic you're looking for.

Petfinder.com is another site that makes dog adoption as easy as clicking a button.

Before spending $500 to $1500 on a labradoodle, Yorkiepoo or Puggle, we'd suggest checking out your local shelter. You can probably find the same type of dog there for a fraction of the price and save a life in the process.
Don't let breeders take advantage of you by charging a ridiculous price for a mixed breed dog. Shelters are full of them! Adopt a Yorkie-Poodle mix and call it a Yorkie Doodle Dandie! Or adopt a Shih tzu-Pekingese mix and call it a Shih tzinese. It would be exactly the same.
So visit your local shelter or rescue group and adopt your own barely-used dog today!
Recommended Reading
Pet stores should NEVER be an option.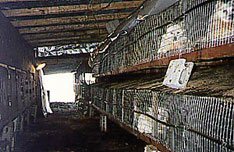 Buying a puppy from a pet shop keeps the puppy-mill industry booming.
These 'so-called' businesses are in it for profit only with little or no regard for the health or well-being of the animal. The conditions are horrendous and the dogs suffer unimaginably.
Check out our Small Breed Dog FAQ Page to learn more.
Encourage Someone To Save A Life....
Share your dog adoption story.
You can help find a homeless dog a loving family. Share your dog adoption story with others. Did you find the best dog in the world at a Humane Society.... Did you contact a rescue group and fall in love with a puppy mill survivor?

These are the kind of stories that keep people out of pet shops. We can all do something to save a life. Here is your chance!
What Other Visitors Have Said
Click below to see contributions from other visitors to this page...



Still unsure of which breed is best for you? Review our List of Small Breed Dogs. Gather all the information you need to find the best pet to suit your life and your lifestyle.
Do you have pet allergies? We even have the 'low-down' on Hypoallergic dogs. And if you're looking for a list of Non-Shedding Dog breeds, we have that, too!
And, when you do find the perfect breed for you, we hope you'll consider rescue or dog adoption First.


Don't forget to recommend dog adoption to your friends. We just did :)