Dog Adoption and Rescue
How to find the perfect purebred dog
(or fancy hybrid breed)
For a fraction of the price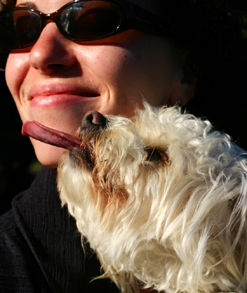 Choose dog adoption and you could be this happy, too!
You'll never regret the decision to save a life. Dog adoption means opening your heart to a dog who needs you and it's the best feeling in the world. The dog you adopt will never stop showing you his gratitude. You'll be his hero. In return for your kindness, you'll get a dog who is already:
 Housebroken 
 Socialized

 Leash Trained 
 Out of his 'chewing phase'

 Spayed or Neutered
AND you're saving a life... And not just one life, you're also saving the life of the next dog who might have otherwise been euthanized if you hadn't made the vacancy.
More than 7 million loving and well behaved dogs are euthanized each year. And sometimes, not so humanely. Most were just the unfortunate victims of an irresponsible owner.
There are MANY reasons why good dogs end up in shelters- and 25-30% of them are purebreds!

Don't be fooled into thinking they're damaged goods. The Humane Societies and Rescue Groups, etc., evaluate the dogs extensively before placing them for adoption. They will be honest with you about any problems you could face with the animal, so you'll know exactly what you're getting.
Foster a Rescue Dog Near You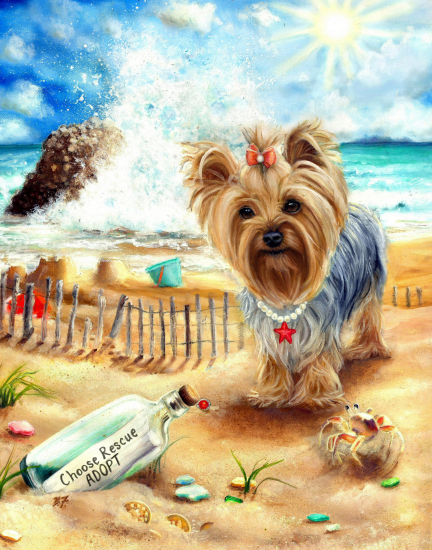 Message in a bottle is an original oil painting, by me. This painting is available as a fine art print, canvas print or garden flag. Find the link to learn more about me below and to see more of my artwork that supports dog adoption.
Rescue groups are ALWAYS in need of foster homes.
Just when you think all hope is lost for humanity, you'll meet someone who's dedicated their life to the cause of animal rescue.
These selfless people go to the ends of the earth to save the lives of dogs who might otherwise be euthanized or die in the horrible living conditions that "people" have forced on them.
If you're not sure of any particular dog being a good fit, fostering a rescue dog, is a perfect solution.
While you're fostering, the organization pays for the food, medical care and all other expenses associated with the animal, mostly through donations. All you have to do is love that dog until a forever home is found, and, who knows? You might decide that their forever home is with you! Many do.
How To Find Rescue Groups Near You

Use your favorite internet browser, type in "rescue group", allow the browser to "use your current location" and hit enter. That's it. Finding a rescue group near you is just that simple. You may even find several that are breed specific. Call them up, say you'd like to learn more about fostering, and be their hero for a change!
Dog Adoption - There's more than one way!!!

Rescue dogs from rescue groups are an easy way to get a purebred dog for less. If you're thinking you can't find a purebred for adoption and you have your heart set on one specific breed, you might be surprised to learn that there is probably a rescue group near you. (If there's not, there's still another way, described a couple of paragraphs below...)

These selfless organizations ( rescue groups are often breed specific) foster animals they find at local shelters or rescue from bad situations... And they will most likely have at least one dog, possibly even a puppy, with the exact characteristic you're looking for; young, cute, smart, good with kids, likes walks, good with cats or other dogs... you name it.
-BONUS-
As opposed to the uncertainty that you'd face with a puppy, your odds are virtually 100% that you'll get exactly what you're looking for in a pet when you adopt an adult dog.



Another Way To Adopt a Purebred Dog




When I rescued my first Chinese Crested, I was sure that I wanted to adopt or rescue, but a Chinese Crested isn't exactly a common breed and at the time there was not a rescue group in my area, so I had an idea...
The only dogs I could find online at the time came from breeders, but there was NO WAY I was going to risk supporting a puppy mill... you know, one of those large breeding operations that breed for profit, not quality and keep their animals in horrible situations... (see below)

Anway, a lightbulb went off. I knew when I saw one particular webpage that it was likely a puppy mill site, based on the number of different breeds available and the number of puppies currently for sale, but I called anyway. Here is how the conversation went:
Me: (trying not to sound offensive) "I am interested in a Chinese Crested, but I prefer an adult dog... just as a personal choice. Would you happen to have a breeding dog you'd consider retiring? As a pet only, of course."
Breeder: "Well, I don't know. I probably have one, but I'm just not sure I'm ready to give her up yet. I do have a friend who's a hobby breeder who also has Chinese Cresteds. I will call her for you."
Me: "Oh, that is great! Thank you so much. I will wait to hear back from you"
Long story short, the next day I got two of the most beautiful Chinese Crested dogs I'd ever seen, including the one she couldn't decide if she wanted to part with and one from her friend who sadly happened to have several dogs she was potentially ready to retire. The sad part is that I couldn't take them all.

That's how easy it was to get 2 purebred dogs. The total cost to me was a road trip, which I happen to enjoy and $100 for each dog. But I'm sure I could have negotiated and got them for less.

An adorable dog being rescued from the shelter because someone like you chose dog adoption!
SPOILER ALERT! Fancy hybrid dogs like goldendoodles -that people pay thousands for- are little more than mutts. And millions of them are waiting to die in shelters.

Think about it. Someone somewhere mated a Shihtzu with a Brussels Griffon, gave it a fancy name (shiffon), convinced you why you needed it and named their price.
Dogs have been doing this for years without the interference of people. No charge, unless you count love.
Before spending $500 to $1500 on a labradoodle, Yorkiepoo or Puggle, we'd suggest checking out your local shelter. You can probably find the same type of dog there for a fraction of the price and save a life in the process.
Don't let breeders take advantage of you by charging a ridiculous price for a mixed breed dog. Shelters are full of them! Adopt a Yorkie-poodle mix and call it a Yorkie Doodle Dandie instead of Yorkiepoo! Or adopt a Shih tzu-Chinese Crested mix and call it a Shih tzinese Crested. It would be exactly the same.
So visit your local shelter or rescue group and adopt your own barely-used hybrid dog today!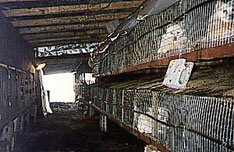 Another Reason to Choose Dog Adoption or Rescue
This is how puppy mill dogs live their entire lives. They're locked in cages where they eat, sleep, poop, pee, everything. This is their whole life... spent inside a cage with almost no human interaction.
Pet stores should NEVER be an option.
Buying a puppy from a pet shop keeps the puppy-mill industry booming.

These 'so-called' businesses are in it for profit only with little or no regard for the health or well-being of the animal. The conditions are horrendous and the dogs suffer unimaginably.
No matter what the employee at the pet store tells you, the photo on the left is exactly how their puppies are acquired.
They will all say, "a local breeder", but trust me, the place on the left is "local" to someone. And your locality has a similar operation.
Read our FAQ page to learn how to avoid these places and the questions to ask of breeders to be sure you're not supporting a puppy mill.
Want to Support Dog Adoption, But You're Not Currently Looking For a Dog?

Support this site by sharing it with a friend. Every page of this site is dedicated, first and foremost, to de-stigmatizing rescue dogs and spreading awareness about puppy mills.
I built this site to promote my artwork, but I just couldn't, in good conscience, do so without also helping dogs. The reason I paint dogs is because I love them, after all.
So please share one of the pages of this site with your friends on social media, including this one. 
You can also give me a like below! That helps, too!
Have you chosen dog adoption to find your next best friend, but you're still unsure of which breed is best for you? Review our List of Small Breed Dogs. Gather all the information you need to find the best pet to suit your life and your lifestyle.
Don't forget to recommend dog adoption to your friends. We just did :)

Encourage Someone To Save A Life....
Share your dog adoption story.
You can help find a homeless dog a loving family. Share your dog adoption story with others. Did you find the best dog in the world at a Humane Society.... Did you contact a rescue group and fall in love with a puppy mill survivor?

These are the kind of stories that keep people out of pet shops. We can all do something to save a life. Here is your chance!
What Other Visitors Have Said
Click below to see contributions from other visitors to this page...