Brooke Faulder

Specializing In:
Art That Makes Dog Lovers Smile!
Hi! My name is Brooke Faulder. I've been an animal lover for as long as I can remember, and I've always loved to draw and paint. It was only natural that I would combine the two.
I started selling my paintings around 2003 and it was soon after that when I created this site to feature my artwork, but in the process of developing the pages, I realized that the dogs themselves deserved most of my efforts.
I like to think that if people only knew the difference they, as one person could make, it could make a difference. So, as "one person" looking to make a difference, Rescue Dogs Are Better was born.

My Artwork and My Brand:

Art that makes dog lover's smile by Brooke Faulder
Rescue Dogs are Better The name says it all! Rescue Dogs are Better is more than just a brand and it's more than just garden flags and paintings. It's a mission. I'd like to de-stigmatize rescue dogs and shelter dogs to help people realize the wonderful companions they're missing out on.

I'd like to put an end to puppy mills by making the public aware of them. I believe if people honestly knew where that "doggie in the window" came from, they'd think twice before shopping in the stores or on the websites that sell them.

If you're not familiar with a puppy mill or the impact of purchasing a puppy from the internet or pet stores, please read my FAQ page.
If you're currently searching for your next best friend and can't decide on a breed, start here.
Otherwise, finding a dog in need is as simple as doing a google search for "(your dog breed here) rescue group (your city and state here)". or looking on petfinder.com! I also have a whole page dedicated to dog adoption and the befits of rescue :)
More about my artwork, this site and me
My married name is Brooke Faulder. I give my husband at least half of the credit, but he deserves way more. I'm able to dedicate myself to doing what I love because of him.

In 2003 I started selling my artwork (in many forms including garden flags, original paintings, etc.)  using several different e-commerce sites along with setting up at specialty shows and vendor booths. You can now find my work on store shelves in the form of jigsaw puzzles by SunsOut and Bits and Pieces and in catalogs and specialty stores.
If you happened across this site when shopping for garden flags or a similar artist or dog related item, rest assured that I guarantee your satisfaction with your purchase with a 14 day money back guarantee.
My garden flags are not only rich is quality, but rich in design and detailed artwork featuring dogs and cats and a few other animals, too! They are sure to enhance any outdoor space with color and charm!

Thanks so much for stopping by!
For more about me, my artwork, puzzles, garden flags or other products, use the form below. I do occasionally take custom orders for commissioned paintings if you'd like to see your dog immortalized in oil paint. There are 3 examples of recently commissioned paintings below.

If you're in product development, creative development or licensing, I'd be happy to hear from you.

Colorful Dog Art Available For Licensing

If you're in product development, creative development or licensing, I'd be happy to hear from you.
Many of my paintings are currently licensed for consumer products. I'm also available on commission to create similar style animal paintings for licensing.

Contact me with any questions or to see more examples of my work.

Examples of commissioned paintings.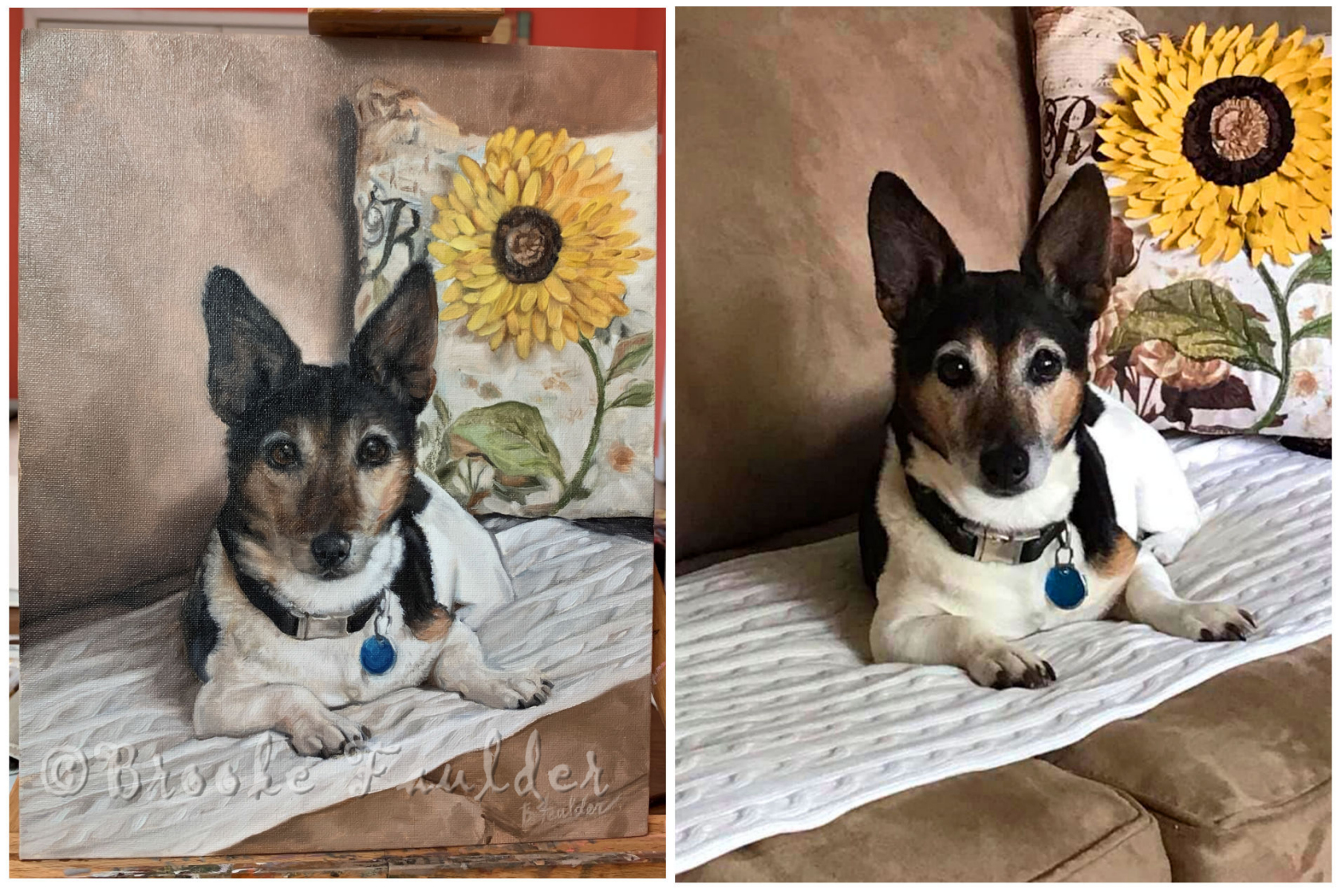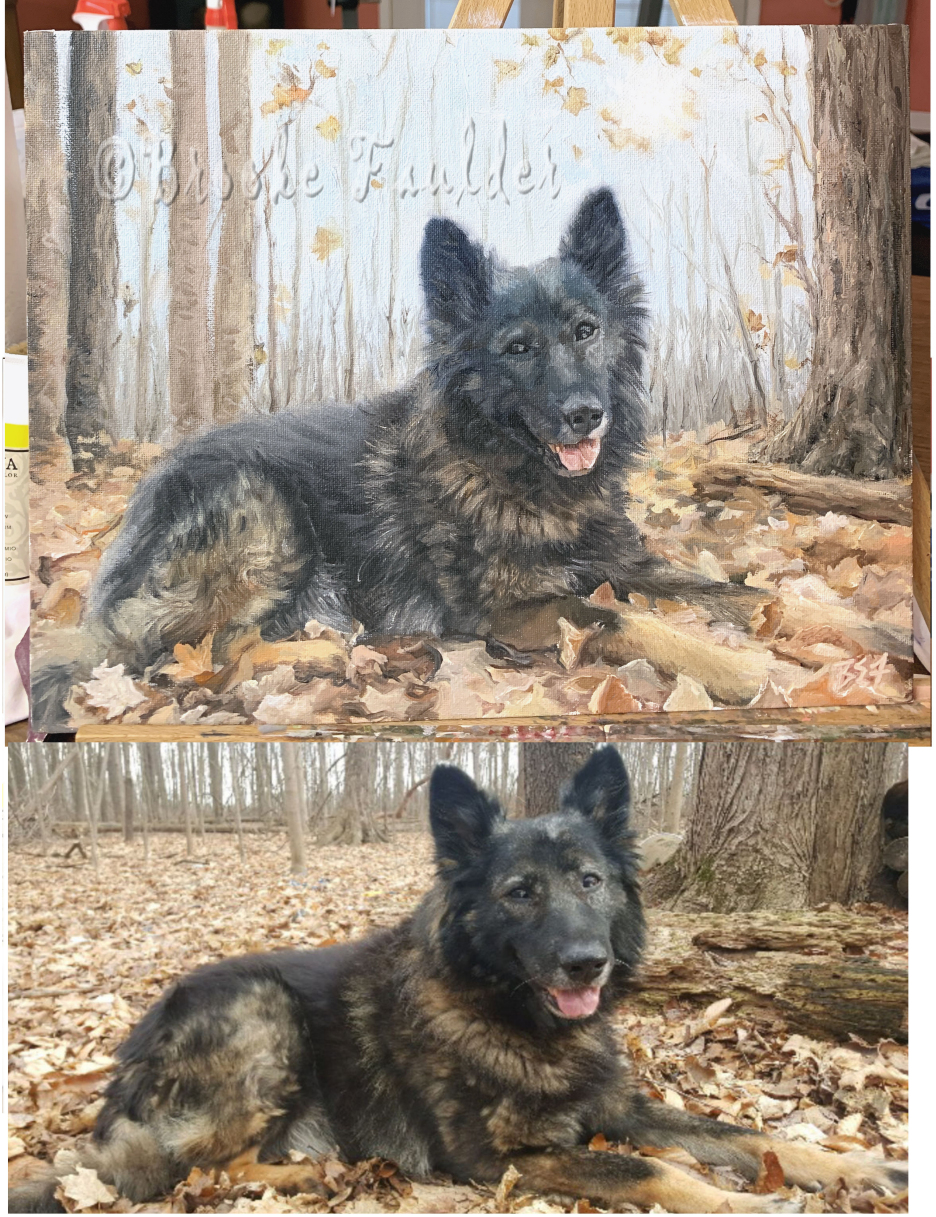 As always, please consider the benefits of adopting a rescue or shelter dog if you're thinking of getting a new best friend.