Colorful Dog Art
by:
Brooke Faulder

Art That Makes Dog Lovers Smile!
Hi! My name is Brooke Faulder. The colorful dog art on this page was all created by me for use on garden flags, jigsaw puzzles, fine art prints, canvas prints and more!

I currently have several paintings licensed for consumer products like note pads, jigsaw puzzles, garden flags, art tiles and note cards.

If  you'd like to inquire about any of my colorful dog paintings for use on consumer products, feel free to reach out to me.
On this page, you will see only a few examples of my work currently under license as well as some artwork currently available.
I use a combination of techniques and mediums in the creation of my dog and animal art, but most are oil paintings. All images are sharp, clear and high resolution. They'd be perfect for:

Christmas Cards;
Blank Note Cards;
Jigsaw Puzzles;
Notebooks;
Magnets;

Any Other Textile or Paper Application;
Any Media Calling For Two-dimensional Art

Brooke Faulder -  Dog Artist - Modern Realistic Dog Paintings

Colorful dog art available for licensing.

Bulldog wearing a wreath with snowflakes, garland and Santa hat. This colorful dog art is available for all applications and licensing. Currently a best seller on garden flags. Can say "Merry Christmas" or "'Tis The Season" instead of "Bah Humbug".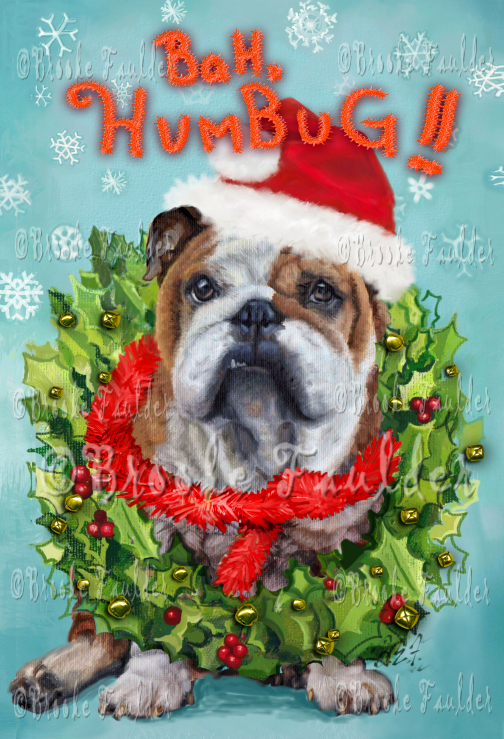 The secret ingredient being baked into "Buster's Biscuits" is LOVE. I'm the dog artist, but the little girl is the dog cookie artist in this painting that has been previously licensed as a jigsaw puzzle with a well known puzzle company. Colorful vintage bake ware and a vintage Formica table and chairs stand out in this one-of-a-kind animal painting.

Moose Crossing with great danes takes the stage in this colorful painting that takes a tour through the scenic route. This autumn inspired painting was licensed by a well-known puzzle company and was available on store shelves worldwide.

This Christmas painting has lots of color and charm and not to mention dogs, figurines and a Christmas train. It was painted by me for use on garden flags. This painting would make an adorable Christmas card, jigsaw puzzle, notebook cover, canvas print or wrapping paper.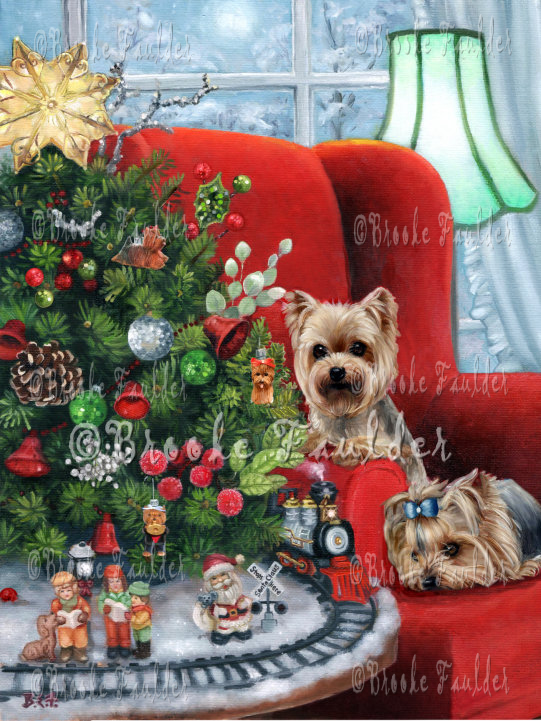 It's always nice to be "Home Tweet Home". A long haired chihuahua and a mountain bluebird share the scene in this adorable spring and summer painting with begonias and other florals in shades of red, pink and blue. A cute birdhouse rests in the window planter. Available for all licensing.

"Story Time" by me, Brooke Faulder, was created for use on jigsaw puzzles and was a best seller for many seasons even though it was painted for Spring. A little girl reads to her Sheltie in this colorful dog art with birds, a chubby squirrel, and a lazy cat. There are lots of other things to see in this busy little painting.

It's finally pumpkin spice season in this adorable autumn oil painting with poodles. 2 dogs find joy in the truck full of fall goodies in this painting titled, "Finally Fall". The red vintage truck bed is filled with gala apples, straw bales, corn stalks, dahlias and pumpkins. A twirl of autumn leaves adds even movement to keep the eye moving on this painting with lots to hold your interest!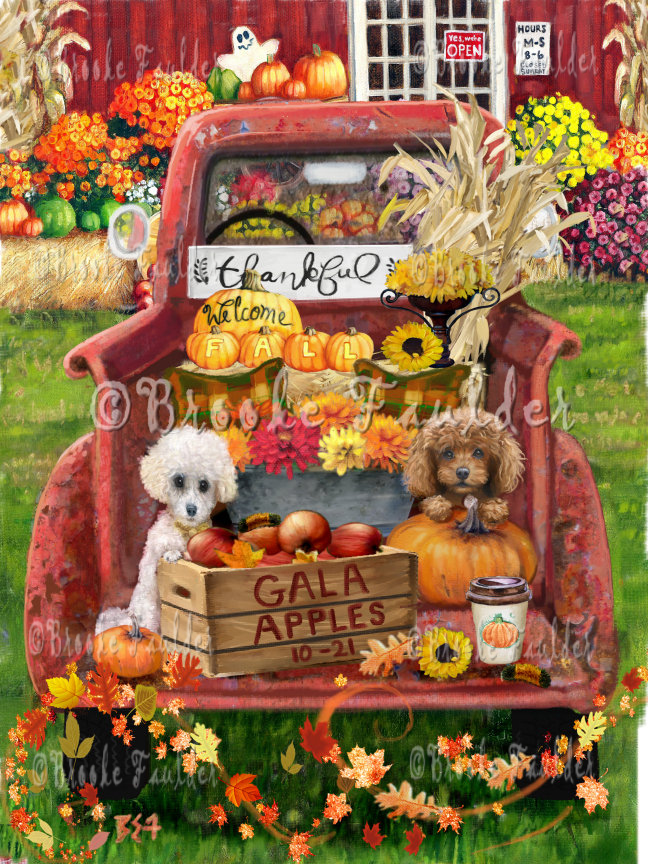 A little girl holds a fund raiser for the local animal shelter by selling lemonade with her helpful little Yorkie. The lemonade is 50 cents, but for just a quarter more, the little dog will also show her appreciation with a nice little doggie kiss. The kittens don't seem to be doing much to help, but they do find a way to be just as cute as the rest of this painting! Another best seller on jigsaw puzzles, but would be adorable as a blank note card as well as many other things!

A Scottish Terrier and West Highland Terrier find themselves chasing a ball as it bounces down the garden steps. This painting has sold many, many garden flags! If you have a product in mind that you thing would be a good fit, please use the form below to contact me with your ideas!

"The Harvest" makes me ready for summertime and fresh garden veggies! A child carries a basket full of cucumbers and other freshly gathered goodies as her dogs, a couple of corgis find more excitement at the birdbath. Rabbits, chickens, a potting shed and more make up the rest of this colorful dog art!

A "Christmas Vacation" to remember! Who needs a snowman when you can have a Santa sandman? 3 dogs and a couple of curious crabs adorn the scene complete with palm trees, seagulls and seashells.

It's payday and a little girl treats her Cavalier King Charles spaniel to his very own ice cream cone! "Payday Cones" was previously licensed for use as jigsaw puzzles.

This is the 3rd version of "Autumn Blessings". It was remade for a variety of products. This version features the same colorful autumn leaves and blue sky with dogs, birds, frog and turtle in this colorful dog art.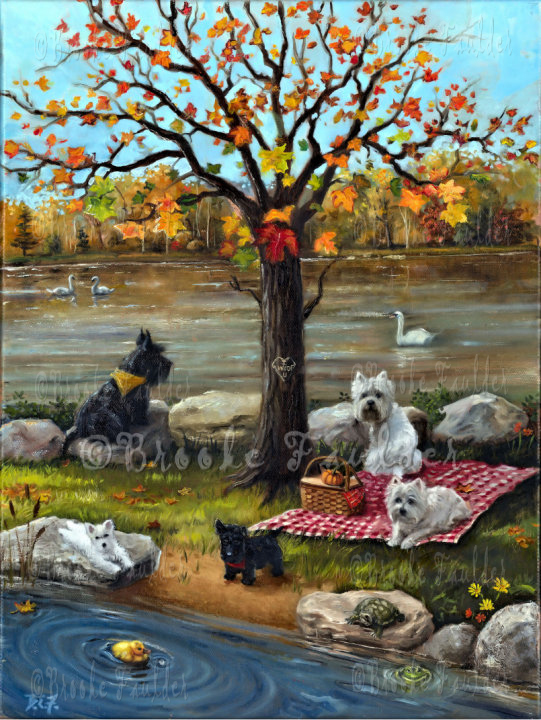 Other Colorful Animal Art

This "Moose, Cardinal and Chickadee" oil painting now hangs in the home of a collector, but the digital image is available for licensing. If a decorated moose is on your list for a Christmas product, use the form below. This colorful Christmas painting is available for licensing.

It was a "Christmas Surprise" for Santa, but the kitten looks like she was a little surprised, too! This warm, colorful painting with cookies and milk was licensed for commercial use on puzzles and flags! It's now available to be licensed on almost any product!

More Colorful dog art garden flags!

Examples of commissioned paintings.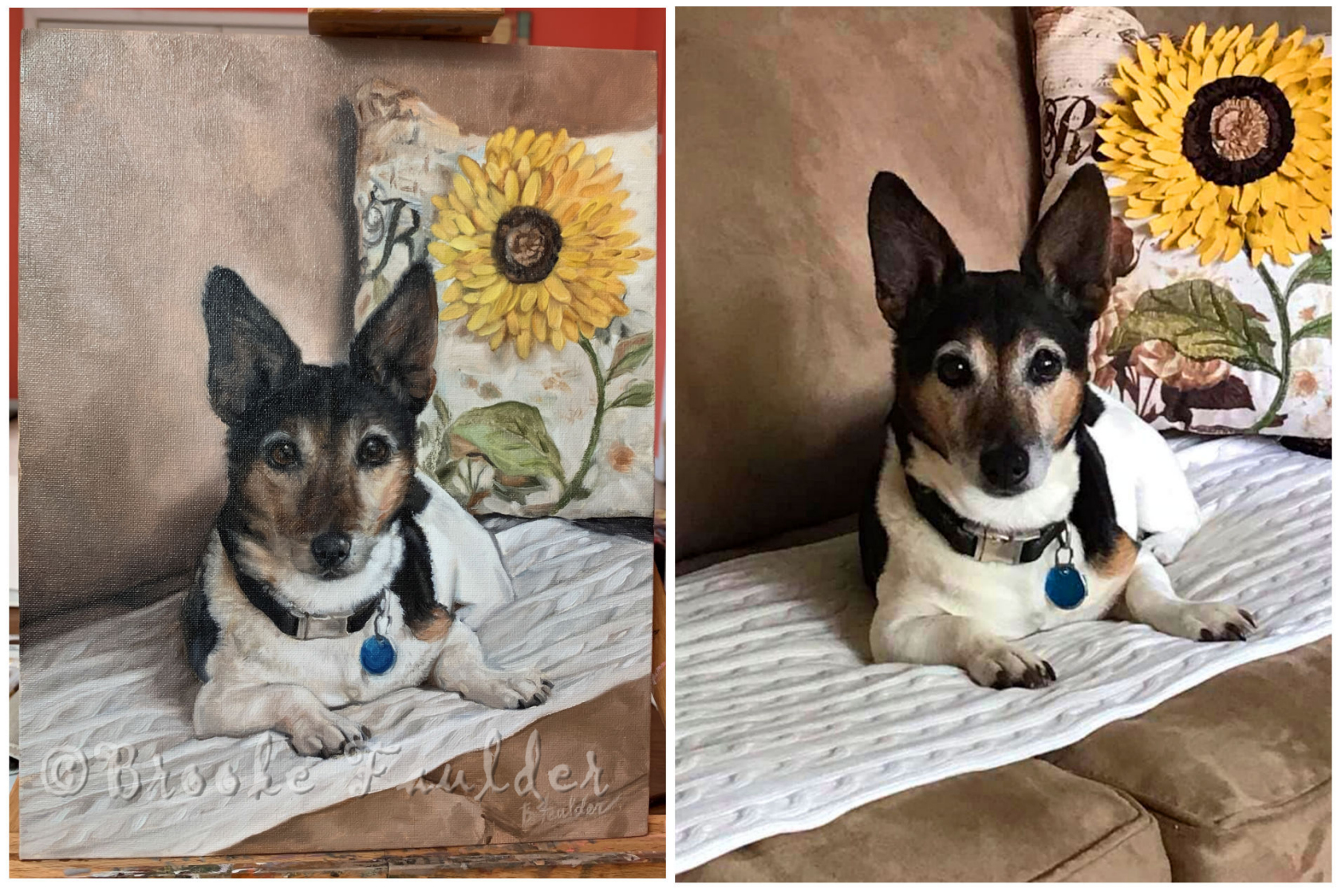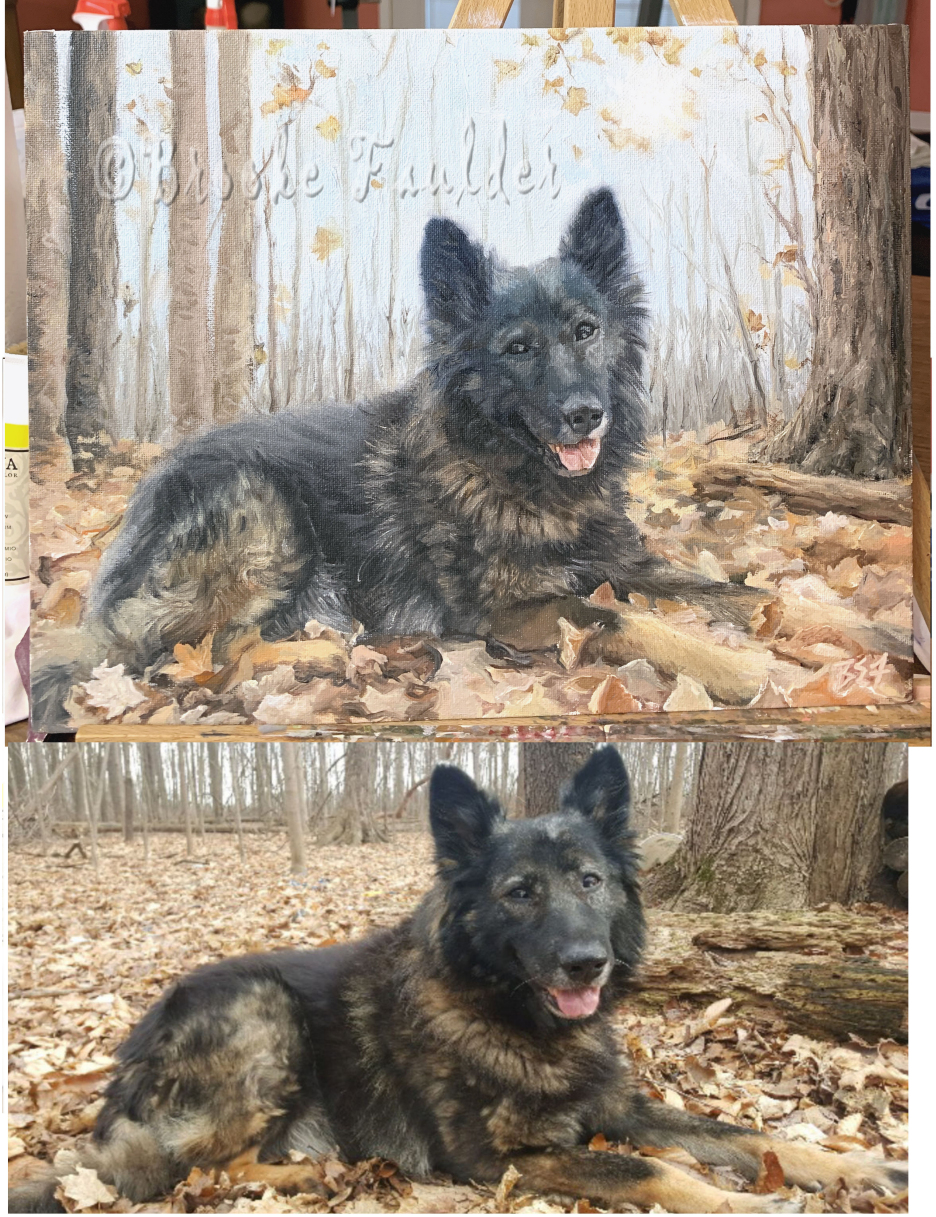 As always, please consider the benefits of adopting a rescue or shelter dog if you're thinking of getting a new best friend.