The Best Gifts For Dogs


Treats, Toys, Clothes, Edible Cards And More
Choosing gifts for dogs is easy! Dogs are like your great aunt Helen. They already have everything, but they're grateful for nearly anything!

There is absolutely no heart in all the world more grateful for kindness than the loving heart of a dog.
Don't beleive us? Try giving your teenager a homemade treat or a nice warm sweater and see what kind of reaction you get! I'm betting it would pale in comparison to a wagging tail, frantic begging and the willingness to perform silly tricks!
Speaking of treats, this no bake dog treat recipe has been a huge hit in our house. Super easy to make using ingredients you probably already have on hand... and my dogs loves them!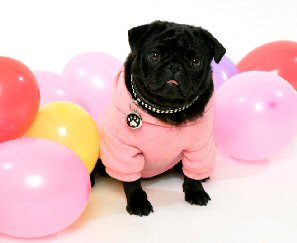 Gift giving can be done all year long, but choosing gifts for dogs can be especially meaningful for occasions like:
Birthdays
Holidays
Learning new tricks
Good behavior
Celebrating an achievement (like housebreaking)


The items listed below are just the icing on the cake- (pun intended)! Browse an even wider selection of great gifts for dogs by clicking on the products!
---
There is No Greater Gift You Can Give Your Dog Than to Have a Great Relationship With You!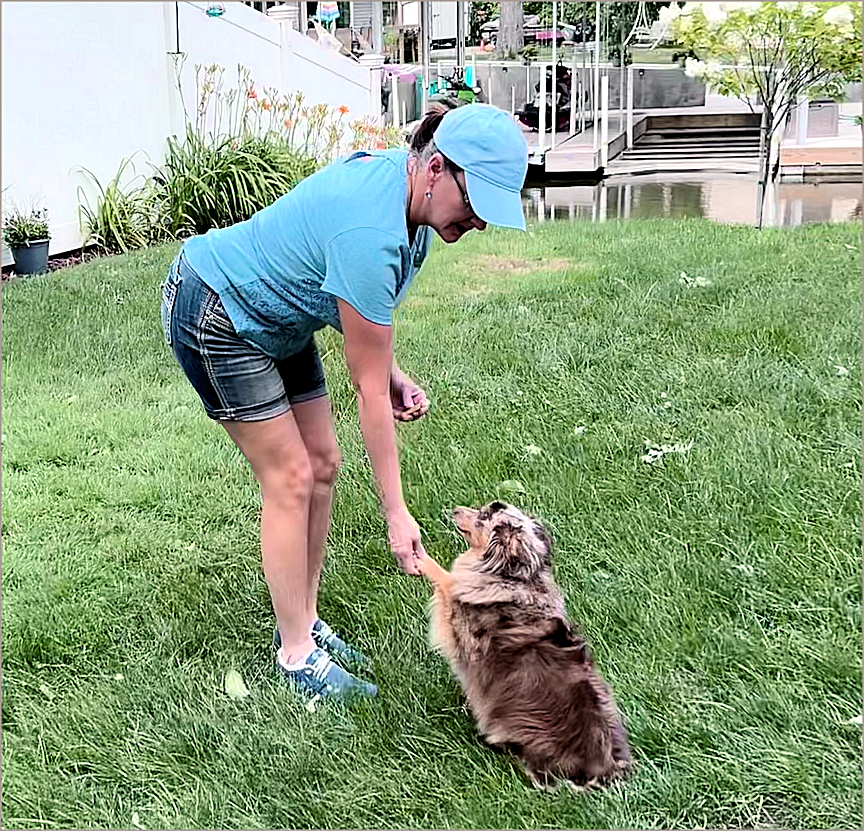 Training is an important part of the bond that you share with your dog. Look how happy it makes my mini Australian Shepherd, Joy.

This work by Brooke Faulder is licensed under a Creative Commons Attribution 4.0 International License.
Dog training is important and it's a great gift to give your dogs, spending time with you!

And the basic commands are easy!  Dog training isn't just housebreaking, but social training, teaching your dog how to behave around strangers and what is acceptable behavior and what is not.
Teach your dog commands like "quiet", so he doesn't bark and cry when you leave the room. I've taught my dogs the quiet command for their own well-being and for mine. A gift to my dog is that she can sometimes travel with me. If she knows the "quiet" command, I'm comfortable leaving her in the hotel room knowing I won't be asked to leave when I return. That is a gift for both of us.
Gift giving has never been more rewarding and has never been more fun!
---
Give Your Dog The Gift of Good Joints With Pet Steps


Pet stairs will give your dog the gift of easy access to a comfy place to rest his tired bones.
Pet stairs and ramps have been proven to not only delay the early onset of joint problems in larger dogs, but they can also stop them altogether... in large and small breed dogs alike!
According the Orthopedic Foundation for Animals, more than 80% of pugs (followed closely by several other breeds) will, at some point, develop hip dysplasia (a painful joint condition which can lead to lameness).
---
Dog Cake Mix And The Perfect Party!
The Most Delicious Gifts For Dogs!

Let them eat cake!
So-to-speak. This peanut butter
dog cake mix
complete with (ready to make) ice cream and bone shaped cake pan would be a must-have if I was planning a party and wanted to include my three best girls (my dogs, of course) It's all natural, wheat free and made in the USA!
Don't forget the
edible card
!
"Treat" your dog with gifts of treats! All natural and wholesome tail-waggin'
no-bake dog treats are easy to make
.
You can get these treats done in as little as 20 minutes. Includes ingredients you probably already have on hand... Even some tasty options for you to try! And dogs LOVE them!
I can already feel the wet kisses coming your way!
---
Keep boredom away for hours! A long-lasting durable
dog chew toy
will provide endless entertainment for your dog! As a bonus, it will also clean his teeth... and that's a gift for you!
Exercise your dog's mind with the gift of puzzle solving with a
dog puzzle toy
!
Who doesn't like a good puzzle? Dogs are no exception. A dog's mental health is just as important as their physical health. We all know what can happen when a dog is constantly bored and not provided with enough stimuli.
This
dog puzzle toy
is affordable and will hold nearly any kind of small, dry morsel on the inside, including any favorite treats your dog already has that you can break up if necessary.
---
Sweaters or hoodies (like the one that Dot is wearing) are a great gift idea for some breeds, but don't sacrifice comfort for cuteness. Breeds like bulldogs and pugs can overheat easily. Sure they might appreciate a jacket or sweater for cold winter walks, but don't dress them for a heat controlled or already hot environment.
Learn how to make your own dog clothes and dog pajamas here!

Give shelter dogs the gift of buying your pet supplies at pet store chains that do not sell puppies! Puppy mills breed misery for the sake of profit. Pet store chains like Petsmart (among others) offers retail space inside their stores to help local shelters find permanent homes for displaced animals.
Through their adoption program alone, they have saved the lives of more than 3 million homeless pets.
Give shelter dogs the gift of a Furever Home. Check out Petfinder for the perfect dog near you.