The Best Gifts For Dogs
Treats, Toys, Sweaters, Edible Cards And More

There is no heart in all the world more grateful for kindness than the loving heart of a dog.
Don't beleive us? Try giving your teenager a homemade treat or a nice warm sweater and see what kind of reaction you get! I'm betting it would pale in comparison to a wagging tail, frantic begging and the willingness to perform silly tricks!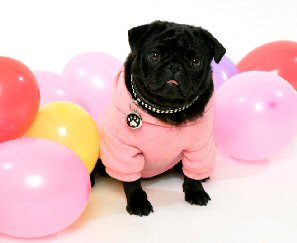 Gift giving can be done all year long, but it's especially poignant for occasions like:
Birthdays
Holidays
Learning new tricks
Good Behavior
or
Celebrating an achievement
(like housebreaking)

The items listed below are just the icing on the cake- (pun intended)! Browse an even wider selection of great gifts for dogs by clicking on the products!
---
There is no greater gift you can give your dog than to have a great relationship with you!
---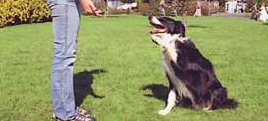 Think about it. Give your dog the gift of good manners ...and the oppurtunity to earn more treats... and not only will you have a better relationship with your well behaved dog, you won't be quite so embarrassed when company comes calling!
Dove Crosswell is, by far, one of the best dog trainers worldwide! Dove's puppy and dog training tutorial
is so well taught and it's worked so well for us and others we've referred it to... and it's easily accessible, online and only clicks away!

You will actually see and hear her unique and proven training techniques (with no shipping and handling charges involved). And best of all, it's not an ebook! You will actually see and hear the correct way to train your dog... instantly!
Training has never been easier.
You'll be given the tools to help you teach your pet:
House Training
Good Manners
Crate Training
Walking Politely on a Leash: The Informal Heel
Obedience
Plus Much, Much More!

---
Give your dog the gift of good joints with Pet Steps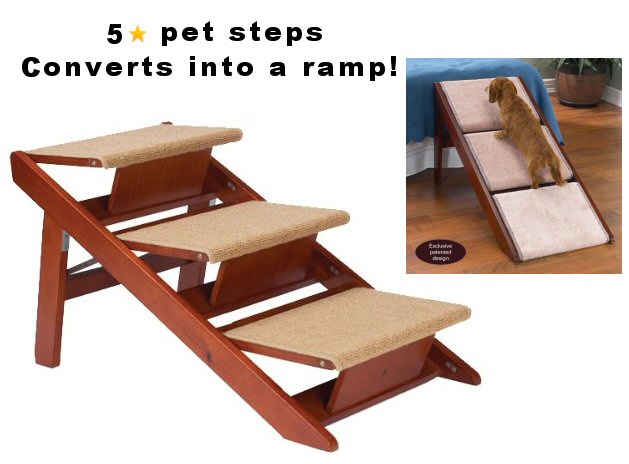 Pet steps and ramps have been proven to not only stop the early onset of joint problems in larger dogs, but they can also stop them alltogether... in large and small breed dogs alike!

According the Orthopedic Foundation for Animals, more than 80% of pugs (followed closely by several other breeds) will, at some point, develop hip dysplasia (a painful joint condition which can lead to lameness).

Pet steps come in a lot of shapes, sizes, heights and material. The dog steps/ramp pictured above have a solid pine frame and will support a dog up to 130lbs!
---
Here are some other fun ways you can "treat" your dog!


Let them eat cake! So-to-speak. This peanut butter cake mix for dogs would be a must-have if I was planning a party and wanted to include my three best girls (my dogs, of course)It's all natural and made in the USA!



---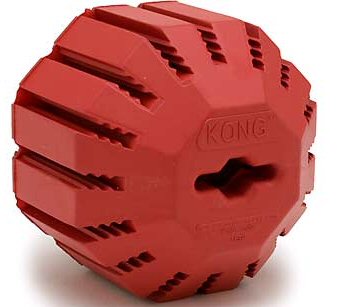 Keep boredom away for hours! This Kong toy will provide endless fun for your dog! As a bonus, it will also clean his teeth... and that's a treat for you! It will hold nearly any kind of small, dry morsel on the inside, including any favorite treats your dog already has. The ridges on the outside can hold any sort of spreadable treat like peanut butter or cheese.



---
Sweaters are a great gift idea for some breeds, but be aware that a lot of dogs, like bull dogs and pugs are not tolerant of heat. Sure they might appreciate a jacket or sweater for cold winter walks, but don't leave them on long in a temperature controlled or already hot environment. Learn how to make your own dog clothes and dog pajamas here!


Give shelter dogs the gift of buying your pet supplies at pet store chains that do not sell puppies! Puppy mills breed misery for the sake of profit. Pet store chains like Petsmart (among others) offers retail space inside their stores to help local shelters find permanent homes for displaced animals.

Through their adoption program alone, they have saved the lives of more than 3 million homeless pets.



---
For more great gifts for dogs, check out our dog beds, dog clothes and Pet Steps pages!