Submit Your Dog Pictures
You have reached our photo submission page. We can't wait to see your dog pictures!

Please keep in mind, this site is dedicated to the mission of saving dogs and advancing the opportunity for rescue and shelter dogs to find loving homes. Therefore, we do not accept breeder advertisements or links to breeder sites. Thank you in advance for understanding.
Use the form below to submit your own photos. And be sure to check out a few recently submitted photos and stories while you're here!



Tell Us About Your Dog
Think your dog is the cutest, most spoiled or best dressed dog on your block? Make him or her a star right here on the pages of our site!

Are you involved in pet rescue? Have an adoptable small breed dog you'd like to place on our breed information or picture page? WE ARE MORE THAN HAPPY TO HELP. Submit a picture below and tell us everything we need to know about the dog and how a potential new family could find him.
Adoption Stories
If you are currently fostering a dog available for adoption, submit a picture and bio using the form above and we'll add it to the appropriate pages within the site... ANY breed, mixed or purebred. We love them all!

If you are the proud parent of a rescued animal, we'd love to hear your story! You may inspire someone else to rescue a dog as well! Visit our Adoption page to submit your story.

The links directly below were sent in by visitors to our site. Click the dogs name to see their photo and their story!
We are currently accepting all breeds for photo submission. Large Breeds included!
By submitting a picture, you agree that you own the exclusive rights to the image.
All dog photos will be displayed on a breed appropriate page along with other pictures. Any information you share about your dogs, such as name or age will also be displayed.
Would you like to see a painting made from your dog photos?
As an animal artist, I am always looking for new ideas and pictures to use in my paintings. Use the form above to submit your photos and I will be sure to get back with you!
Please only submit your own original photos. And Check out some of my original dog art while you're here!

Looking for funny dog pictures and dog videos?
Be sure to check out DogsGossip.com to see some of the funniest dogs doing the craziest things!



Non-Shedding Dogs - List of Breeds - Dog Training - Dog Pictures - Garden Flags



101 reasons to avoid pet store and website puppies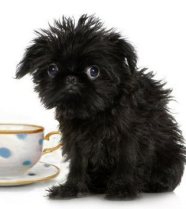 Looking For A Teacup Puppy?
Start HERE First.



Be a DIY Groomer with this Professional Cordless Pet Clipper Kit
But don't forget
ears, nails, teeth and pads.


Clean Go Pet Indoor Potty, Specially scented to encourage use.

Dog Pet Pen Playpen-Comes in lot of sizes and colors


Bear's Stairs Five-Step Pet Stairs in Beige


Pet Stairs Petstairz High Density Foam Pet Step and Pet Stair with Beige Removable and Washable High Curly Pile Shearling Cover for Pets up to 50 Lbs.