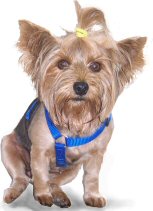 Small Breed Dogs
FAQ
As consumers and animal lovers, it's hard to fathom how buying just one puppy from the wrong breeder could contribute to the torture and misery of so many other animals.

We desperately hope to enlighten you.
---
How do I use this site to find the best breed for me?
Are purebred dogs better than mixed breed dogs?
Why doesn't this site list hybrid dogs?
Are toy breeds suitable for small children?
Are there any breeds more suitable for families with small children?
Is there any such thing as a non-shedding dog?
Are non-shedding dogs hypoallergenic?
Why are toy breeds harder to housebreak?
Why do small breeds typically have more health problems?
Where do pet store puppies come from?
How do backyard breeders differ from puppy mills?
How do I know if a breeder is reputable?
What can I do to help the dogs in puppy mills?
How do I use this site to find the best breed for me?
We hope that you'll do your homework before making such a life changing decision. We've done most of the work for you already. On our Small Breed Dogs page we've compiled a list of the most popular small breed dogs; toy breeds as well as small dogs from other groups. Simply click on the picture of the dog you're most interested in. Once you've clicked on the breed of your choice, scroll down to the Bones Chart. This chart scores dogs on general breed characteristics. For instance, if you see this breed scores high for being good with other pets, then keep reading. There are pros and cons for everything. No dog is without his drawbacks... like most toy breeds being hard to housebreak, for instance.
Are purebred dogs better than mixed breed dogs?
No. In fact, some people prefer a mixed breed dog for a lot of reasons. One big reason is that most mixed breed dogs are not prone to near as many hereditary or genetic health disorders, they are often times smarter and more easily trained, on top of being healthier... and mixed breeds (mutts) are just as lovable and cute as a purebred dog.
Why doesn't this site list hybrid dogs?
If you're looking for a so-called designer dog, check your local shelters before spending $500 to $1500 on a mixed breed dog.
Labradoodles, Yorkiepoos, Puggles, (what have you) are being bred needlessly so deceptive breeders can prey upon the uninformed by giving these dogs 'cutesy' names and charging ridiculous prices for "shelter-type" dogs. Don't let yourself be taken for a fool. Rescue or adopt a Yorkshire Terrier-Dandie Dinmont mix and call it a Yorkie Doodle Dandie! Or adopt an Italian Greyhound-Chinese Crested mix and call it an Ital-Chinese Cresthound! It would be exactly the same! Think of the money AND the life you'll save!
Please consider adoption first whether you're looking for a purebred or a mixed breed dog. The shelters and breed rescue groups are full of both. Contact Us if you need help finding a specific breed in your area.
Are toy breeds suitable for small children?
NO. Most toy breeds are fragile and nervous around small children. Even the most well meaning child could seriously injure a toy breed dog. And it works both ways. If you choose to adopt or purchase a toy breed while your children are still small, expect to stay busy keeping them both safe. We strongly suggest another breed group.
Are there any small breed dogs more suitable for families with small children?
Yes. Toy breeds aside, practically any other dog, when socialized properly is more suitable for a family with small children. There are some breeds (that when properly socialized) are notorious for being great with well behaved children. An English Bulldog or Cairn Terrier come to mind, but there are several others.
Is there any such thing as a non-shedding dog?
Yes and No. There are dogs who shed less hair than others, but just as people do, they will still lose a small amount of hair. These breeds will not shed an undercoat when seasons change, etc.
We've created a list of some non shedding dogs along with links to their breed profile.
Are non-shedding dogs hypoallergenic?
Non-shedding does not necessarily mean that these dogs are safe for a person with dog allergies. An allergic reaction to a dog isn't usually caused by dog hair alone. Most people with allergies are actually allergic to a protein in dog saliva, mucus, urine, etc.
A non-shedding dog can be a more hypoallergenic dog simply because the the saliva contaminated dog hair is less scattered and less likely to be covering furniture, etc. But there is even better news than that. Read here all of the ways that a person with allergies can reduce symptoms and still own a dog!
Why are toy breeds harder to housebreak?
In short, toy breeds are harder to housebreak because they have much smaller bladders and a higher metabolism than their larger cousins and they need to eliminate much more often. We know of several toy breed owners who've had success with the housetraining methods we refer to on our dog training page.
What is separation anxiety?
Separation anxiety is the behavior a dog exhibits when he's left alone. Many dogs become over dependant on the company of their owners and will display frustration by chewing, peeing, barking, scratching, crying, etc. In memory of Bandit, the Shih Tzu with the propensity to dump his food and water bowl when he was left alone, we'd like to offer you some helpful tips. Visit our page on Separation Anxiety to learn the techniques that worked for us.
Why do small breed dogs typically have more health problems?
Sadly, Smaller dogs have more health concerns, in part, because puppy mills breed them more often than larger dogs. The reason for this is their bottom line. A small dog doesn't cost as much to feed, so their profit potential is greater. The proprietors of these operations don't concern themselves with the health of their dogs or possible genetic conditions that could occur in the puppies.
Another reason small dogs seem to have more health concerns is a simple matter of stature. Conditions like Hypoglycemia are more prevalent in toy breeds. Their tiny bodies are not as well equipped to properly regulate blood sugar. Toy breeds are also more fragile and suffer injuries from accidents at a much higher rate than their larger cousins. These accidents are most commonly the result of a tiny dog jumping from the back of a couch, being stepped on or mishandled, etc.
To prevent injuries from jumping or falling, we strong recommend pet ramps or steps. These Ultra-Lite Pet Stairs
are practical and inexpensive.
Where do pet store puppies come from?
Almost all pet store puppies come from miserable and deplorable conditions not fit for any living creature. There are no words to accurately describe the horrors of these places. We're referring to puppy mills. Ever wonder why so many pet store puppies are sick or become sick within weeks of bringing them home? That's due, in large part, to the conditions they were housed in before arriving at the pet store.
Breeding dogs in puppy mills are never treated for sickness. They are also never screened for genetic health issues and they almost always have them. Puppy mills concern themselves only with profit. Please watch the short video below.
What exactly is a puppy mill?
A puppy mill is many things to many people, but for the proprietors of these operations, it's a business and the breeding dogs are inventory. Their lives are not valued for anything other than profit. They are not socialized. They are not given basic medical care and they are not screened for health problems.
A puppy mill can have a website or place ads in a local newspaper. They can even be a sign along the road... And they are almost always behind that cute puppy in a pet shop window.
I can tell you that there is absolutely nothing cute about the place that puppy came from. There is no love or attention given to his mother. She is undoubtedly locked in a small cage where she has spent her entire life. She is probably covered in her own urine and feces and most undoubtedly she is sick. Her body is used up from years of overbreeding and because of this she will probably never see her sixth birthday.
But that doesn't matter to the owner. In another six months, she can be bred once again, but if she can't, her life will be terminated by clubbing her or shooting her. She's never been shown love and probably has no idea what it would feel like to run in the grass.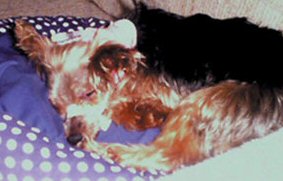 This precious little Yorkie suffered despicable injuries caused by a crude method of debarking that involved a metal rod being jammed down her throat. Several of her teeth were missing and her jaw was badly injured. She would have lived the rest of her life in pain... and even in her condition would have been forced to give birth to several more litters if she had not been rescued. She is one of the few lucky dogs to have escaped her life of torture. There are thousands just like her with very little hope of ever making it out alive.
The same as you would never treat an animal like this, you should NEVER buy a puppy from a pet store. A responsible breeder would NEVER sell puppies to a pet store and you should NEVER believe otherwise.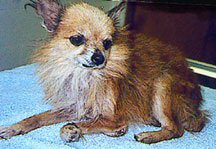 There are thousands of puppy mills all across the country with one goal in mind... to produce as many litters as possible.

Please join in the mission to stop them:

By refusing to purchase a puppy from a pet store, newspaper ad or website without first inspecting the breeders facility. This must be done in person.

Always ask to meet the parents of the puppy. They should both be living INSIDE the home and should be treated as pets, not livestock.

Interview breeders about their breeding practices (how often does she have new puppies available... if more than once a year, consider this a red flag).

Ask for proof of health screenings. A health 'guarantee' is not acceptable as most will only guarantee you a new puppy if yours should become sick. This kind of health guarantee is another red flag that the breeder is operating a puppy mill.

Insist on seeing the parents. A responsible breeder will be glad you asked and more than happy to show-off her well raised dogs!

Check out these website to learn more.

www.prisonersofgreed.org

www.stoppuppymills.org Humane Society of the United States Puppy Mill Rescue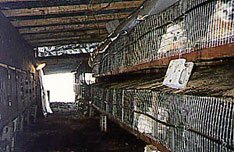 How do backyard breeders differ from puppy mills?
The major difference between a backyard breeder and a puppy mill is that backyard breeders often raise their dogs as pets. They care about their dogs, but are ignorant of genetics, breed standard, breeding for temperament and proper screening practices. All too often, a backyard breeder gets in over her head and unwittingly turns a tiny breeding operation into a puppy mill. So what might have started with an accidental pregnancy turns into a full scale puppy mill driven by the desire to profit from the puppies. A backyard breeder could be someone you work with who has puppies for sale or a neighbor who accidently allowed her Westies to mate, etc.
How do I know if a breeder is reputable?
A reputable breeder cares about each and every one of the puppies she produces and she makes it her business to know the type of person you are and the home the puppy will go to. She has papers to show that her dogs have been tested for possible genetic health issues and she will offer you a "real" health guarantee for your puppy, not just the promise of another potentially sick dog.
She only mates her dogs when it will enhance the breed and she will enthusiastically be there after the sale if you should have questions about anything related to the precious puppy she's placed in your hands. A reputable breeder will most likely insist on a no-breeding policy with restricted papers so the dog cannot be bred or she will insist on spaying or neutering.
She is an enthusiast of the breed and she may be involved in breed rescue groups, dog shows, field trials, obediance or agility training, or some sort of group or club involving her dogs.
She assumes a lifetime responsibility for the puppies she produces and will insist on taking back the dog if a time ever comes that you can no longer care for it.
She does not cross-breed her dogs to produce "designer" puppies and she would never breed her bitch more than once a year.
AND FINALLY... A reputable breeder does not use marketing terms such as "tea-cup"!! There is no such thing as a "Tea-Cup" dog, Yorkie, Maltese or otherwise. Careless breeders invent these terms as marketing ploys in order to sell tiny dogs for higher prices. A good breeder does not purposely produce dogs below breed weight standard.
Click here to learn everything there is to know about teacup dogs.
What can I do to help the dogs in puppy mills? Never buy a puppy from a pet store. Tell your friends about this site or one of the sites listed above. Get the word out. One person can do so much.
Adopting your next dog or choosing a reputable breeder using the guidelines listed above could make all the difference in the world to your future new best friend.
We also need to make animal cruelty a felony, not a misdemeanor for those (like puppy millers) who repeatedly harm animals. Contact your state Representatives by email to express your concern on this issue.
---
If you're considering buying a puppy online, from a newspaper ad or at a pet store, there is a 99.9% chance that you're about to become a part of the problem. Please watch this video and join us in the fight against the torture of animals in puppy mills
.
"Think occasionally of the suffering of which you spare yourself the sight."
~Albert Schweitzer
---
Unable to find an answer to your question? Contact us using the form below. We'd be glad to hear from you!



Leave Small Breed Dog FAQ to view our Best Breed for You page.