Chihuahua Pictures
Welcome to our Chihuahua pictures page!

Some of the pictures below feature adoptable dogs. If you'd like to make a Chihuahua part of your life, learn all the reasons why adoption could be the best choice for you.

---
A special word of thanks to all the Chihuahua rescue groups and everyone doing what they can to make a difference for these unique little dogs. Thanks to
Petfinder.com
for creating the website that has helped so many good dogs find homes. If a Chihuahua is on your wish list, please consider adoption.
We realized when we sat up this Chihuahua pictures page that not everyone who comes here is going to be interested in one of the great dogs in the pictures below.
We did hope that you might take this opportunity, though, to learn the dangers of buying puppies from pet stores.
In case you're not sure why, we've posted a video below.
Their lives will never change without our help. Please do your research and find a responsible breeder if you're looking for a new puppy... or better yet, check out the great dogs below that may still be in need of loving homes!
---
Chihuahua Pictures
Featuring Dogs in Need

I didn't have a name when I was rescued. I spent my whole life in a crate having babies at a place called a puppy mill. Then, my owner threw me out because I could no longer produce puppies.

I don't know why but someone did save me. Apparently, I am worthy of being loved and I even give kisses now.

Like most foster dogs, I somehow know that I haven't quite made it and I need a special person who is willing to overlook my past and give me a future filled with good food, a warm lap and kindness... and maybe even a new name.








I am Poo-key and I may still be available for adoption! ... I am little, just 4.2 lbs. and a very good boy. I like cats too. I have done very well with house training, I will let you know when I have to go out to go potty. I need someone who is willing to take a chance on me. I've had a rough start in life and I'm a little timid, but I promise with patience, that I can be the very best lap warmer in your life.








Hi! I'm Bellamy! I need a loving forever home and I may still be available for adoption! Click on my beautiful picture to learn more about me and see many more one of a kind cuties in need of a family. If you can't find me when you click on my picture, type in your zip code to find a dog just like me near you!








I'm Kippy! Before I could find a loving forever home, I needed surgery to make me better. I just want to live a long and happy life, running and playing and loving a special family that I have yet to find! Please help me and other Chihuahuas by going to petfinder.comto look for your next best friend... and you can also see even more Chihuahua pictures there!








Cha Chi's owner died so the family left him in a shelter. He was very scared at the shelter, but a kind volunteer from a rescue group came to be his temporary hero. He is much happier now that he has a foster home, but he still needs a forever home. You could be his permanent hero! Look for Cha Chi or a dog just like him.








Hi! My name is Pearl and I am a beautiful 3 yr old female chihuahua. I had a litter of puppies and now they are all adopted. I am too ready to go to my forever home. I get along okay with other dogs but am not fond of strangers coming in the house. I want lots of love and attention and love to go for car rides. If you have room in your home and heart for me, please click on my picture. As beautiful as I am, I may not be available for very much longer.










Hi! I'm Montel. I enjoy long walks on the beach, dining at sunset, sleeping under the covers and cuddling, of course. Click on me to learn more and to
see more Chihuahuas available for adoption
.
I'm Patch! I'm three years old! I came from people who used me as a breeding dog. Some dogs might let that bother them, but not me... I'm a very loving little guy. I love to give kisses. Even if I'm a little shy at first, I know I'll quickly become your very best friend if you decide to take a chance on me and give me a loving forever home. If you can't find me when you click on my photo, please celebrate! It means I already have a home! But I have A LOT of friends, and new ones are added everyday, that are looking for someone like you to save them!






Hi, my name is Peanut. I'm 2 years old and a very loving little boy. My former family did not not have enough time to teach me the important things in life and I just demand what I want and get it. I need a very patient, caring, and loving new forever home. I will love you forever if you will love me and teach me the things that dogs are suppose to know.








I am Bailey and I have lived my life with several dogs. I am scared and will warm up after I realize you are going to be my friend. I don't know that I am pretty but people keep telling me that I am. If you would like to keep telling me that, too, please fill out the application and bring me home with you!







I am Tico. I love making little grunting noises at my foster mom and she talks back to me in some crazy language all you humans talk, but it makes me happy that I'm getting attention! I'm a one pet kinda guy, so would prefer you not have any other dogs or cats (I like chasing them)! I love playing with toys and going on walks! If you like walks and long conversations, maybe I'm the guy you've been looking for!!







My name is Candoo and I was rescued from a shelter just in time! I am still a little unsure of these human friends because I was left alone too much. I am getting along fine with my playmates in foster care. I love my fostermom and I dont mind the little girl that takes me for walks. (She is almost as cute as me!) I am 5.5 years old and just adorable! I have long, tri-colored hair and just want to be loved. Won't you consider me for your forever friend?







This is Jack and Jill and they are adoptable! Jack and Jill are 4 yrs old and litter mates. Jack weighs 4.6 lbs. and Jill weighs 3.4 lbs. Both dogs are crate trained and housetrained. They also will use a piddle pad. Both of these little babies are gentle, sweet and loving. They depend on each other so must be adopted as a pair. They do well with other small dogs. Jack and Jill would do best in an adult home due to their small size. If you like kisses, and snuggles this is the perfect pair for you.

If you're interested in helping to further the cause of Chihuahua Rescue, they are always in need of foster parents and volunteers. Also, donations are always needed and put to great use for medical expenses, transport, rescuing more animals, etc. Do a google search to find a rescue group near you if you'd like to volunteer your time, a donation... or best of all, a loving home.




Contrary to belief, these dogs are not damaged goods. They do not have behavioral issues and you'll always be told the truth about how the dog was brought to resuce.













Our Mission
Our mission is to help dogs... Because we care. Deeply. Please let us know if there's any way we could have made your small-breed-dogs.com experience better. Helping you means helping dogs.



We welcome you to contact us if there are any other questions we can answer for you about Chihuahuas, puppy mills or adoption.
Learn all there is to know about Chihuahuas by checking out our Breed information page and see more Chihuahua pictures here. We can help you decide if this is the breed that will fit in well with your family and your lifestyle.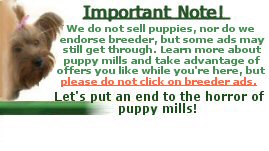 101 reasons to avoid pet store and website puppies

Be a DIY Groomer with this Professional Cordless Pet Clipper Kit
But don't forget
ears, nails, teeth and pads.


Clean Go Pet Indoor Potty, Specially scented to encourage use.

Dog Pet Pen Playpen-Comes in lot of sizes and colors


Bear's Stairs Five-Step Pet Stairs in Beige


Pet Stairs Petstairz High Density Foam Pet Step and Pet Stair with Beige Removable and Washable High Curly Pile Shearling Cover for Pets up to 50 Lbs.