Garden Flags

Fun & colorful dog art by Brooke Faulder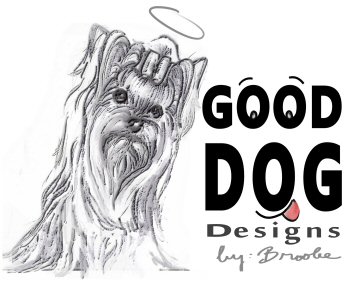 Good Dog Designs by Brooke introduces new and quality Garden flags to this site!
A great addition to your landscaping or flower beds, these garden accessories can be displayed in any season, sun, rain or snow. They are both weather and UV resistant.
They are printed on both sides on triple ply, heavy-duty, weather treated, nylon. The back of the flag shows the same image as the front. Both sides are bright and colorful.
Each of the flags measure approximately 12x18" and have about a 1 1/2" pocket intended for the flag pole, which is not included with the purchase of the flags.
Flags poles or flag stands are easily found in most landscaping or garden centers, not to mention numerous places on-line. You would need a flag stand intended to display a garden flag of at least 12" wide. Contact me if you have any questions and I'll be glad to help you.

If you'd be more interested in art you can display indoors, Some of the original paintings used for the graphics on these flags are still available... and for sale.
If you happen to be in product development and would like information on licensing availability, Contact me for more information on garden flags, other products or product licensing.
---
"2 Bichons and a Book"


Bichon Frise flag

$22.99

Free Shipping


---

Yorkie with pink bow and pearls


"A Quiet setting"

$22.99

Free Shipping


---

Lots of Westies in

"Autumn Comes Early"

Dog Art Flag

$22.99

Free Shipping


---

Halloween Banner


Yorkshire Terrier

"Before Twilight"

$22.99

Free Shipping

---

Biewer Terrier Puppy

"New Discoveries"

12"x18"

$22.99

Free Shipping


---

Bichon Frise

Christmas Image

all flags printed on both sides

$22.99

Free Shipping


---

Chinese Crested-


"Julie in Hydrangeas" Hairless Dog art flag

$22.99

Free Shipping

---

"Counting Sheep" Border Collie 

  flag with border collie puppy- garden, flower bed, landscaping.

$22.99

Free Shipping

---

"Country Westie"

Colorful flag for Autumn/Halloween

$22.99

Free Shipping

---

"Happy Easter Yorkie"

Yorkshire Terrier Garden Art Flag

$22.99

Free Shipping

---

"Faux Fur-Ever"

Chihuahua Flag

$22.99

Free Shipping

---

"Stopping to Smell the Roses"

Yorkshire Terrier garden decor

$22.99

Free Shipping

---

2 Yorkies on Red Striped Sofa

"Tiny Treasures"


Great for Valentines Day!

$22.99

Free Shipping

---

Adorable on display!

"West Highland Garden Club"


Westie wearing a hat, dog flag

$22.99

Free Shipping

---

3 Yorkies skiing

"Winter Wonderland"

Christmas/Winter

$22.99

Free Shipping

---

"Wish You Were Here"

Nautical garden flag

Yorkshire Terrier at the ocean

$22.99

Free Shipping

---

Yorkie Puppies

"Sneaking up on Santa"

Christmas flag

$22.99

Free Shipping

---

Yorkie Art

"Morning Ride"

12 x 18

$22.99

Free Shipping

---
---

---

"Christmas Vacation"

Yorkies with Sandman and red crabs on the beach on Holiday.

$22.99

Free Shipping

---

"Country Yorkie"

Colorful flag for Autumn/Halloween

$22.99

Free Shipping

---

"Gazing in Wonderment" Golden Retriever puppy

Christmas flag

$22.99

Free Shipping

---

"Liberty"
Yorkie puppy

garden flag

$22.99

Free Shipping

---

"Fright Light Yorkie"

Halloween banner

$22.99

Free Shipping

---

"Hay Day"

Autumn flag with Yorkie & puppy

$22.99

Free Shipping

---

"Holly"


Christmas flag

Yorkshire Terrier

$22.99

Free Shipping

---

"Kitten in Hydrangeas"


Spring/Summer

flag with purple and violet blooms

$22.99

Free Shipping

---

"Pink Gingham Puppy"

Yorkie puppy yard art.

$22.99

Free Shipping

---

"Tabatha"

Yorkshire Terrier - Halloween

$22.99

Free Shipping

---

Hairless Chinese Crested

"Prim and Playful"


12x18" dog art banner

$22.99

Free Shipping

Personalize your own custom made garden flag. Nearly any image can be made into a professional quality garden flag, as long as the image is large enough that stretching it to a size of 12x18 inches will not leave it looking pixelated. If you're in any doubt of your image being suitable, contact me for more information.

$40.00

Free Shipping

Use the form on our personalized gifts page to upload your photos. If you're in any doubt about their usability, make the inquiry before purchasing the flag. There are no refunds on any personalized items.


---

---

Bichons Yard Art

"Crafty"


12x18" dog art banner

$22.99

Free Shipping

Bichon Frise and Bichon puppies

"Yard Sale"


12x18" dog art banner

$22.99

Free Shipping

---

Schnauzer Flag

"Crafty"


12x18" dog art banner

$22.99

Free Shipping

---

"Happy Campers"

English Bulldogs 12 x 18" Flag


$22.99


Free Shipping





---

"Westie Before Twilight"

West Highland White Terrier


12 x 18" Flag


$22.99


             Free Shipping

---

"Be Mine" Yorkie Valentine


12 x 18" Flag


$22.99
            

Free Shipping

---

To Gnome Me is to Love Me

Yorkie Garden Art Flag

$22.99

Free Shipping


---








Become a fan on facebook!

See new paintings as they're added.

Get alerts on the latest greatest
adoption stories.

Be entered to win great freebies
from small-breed-dogs.com!

and more :)

---

---