Christmas Garden Flag with English Bulldog
Christmas Dog Art
"Mom's Miniatures"
Garden Flag and Fine Art Print

Add a touch of art to your indoor and outdoor Christmas decorations with this adorable poodle painting, available as a garden flag and fine art print.

Poodle Garden Flags - Details
12"x18"

Weather and UV resistant

Heavy weight, high end boutique quality

Double-sided - both sides are printed with same exact image!

SHIPS FREE - SAME DAY or NEXT BUSINESS DAY!

Satisfaction Guaranteed

About Poodle Art Print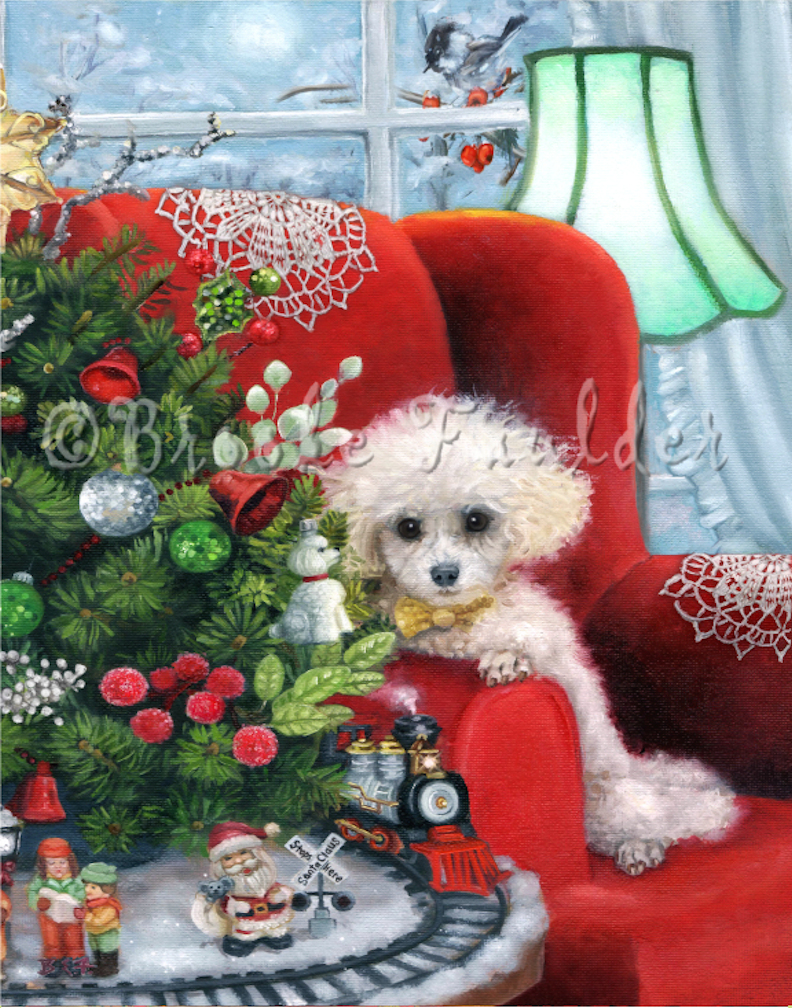 "Mom's Miniatures" is an original Christmas painting by me.
This colorful art print is a full 11X14". There is no white edge. Image is printed using advanced high quality products in a process that achieves a Giclée print on ultra-premium matte fine art paper.
"Giclée printing is a process that uses fade-resistant, archival inks and archival substrates to print on large format printers.

The print is guaranteed fade resistant for 50 years + when hung out of direct sunlight and framed behind glass.
A truly "fetching" display of art! Satisfaction Guaranteed!

More About "Mom's Miniatures" Poodle Painting

An adorable white poodle sits in a scene with other miniatures. A miniature poodle ornament hangs on the miniature tree, a miniature train chugs past the miniature Santa Claus and miniature townspeople.

This Christmas poodle painting, like the rest of my flags and dog art, features my own original artwork!

"Mom's Miniatures" was an oil painting on canvas, now sold, but I'd be more than happy to paint your dog! Use the form below to contact me.

My art flags are heavy weight and UV and weather resistant! Display it with confidence that it will remain vibrant and colorful for several seasons to come!
Garden flag stand is not included, but they are available online, and most big chain department stores including any dollar store, etc.
Art prints are guaranteed fade resistant for more than 50 years when hung out of direct sunlight and framed behind glass.

Bring a smile to your guests and add color and texture to your home and garden with a fun and decorative seasonal garden flag or fine art print this Christmas!



Specifications



| | |
| --- | --- |
| Country of Origin | United States |
---
Material


Heavyweight Polyester/Polyester Blend (Flag)
Archival Matte Fine Art Paper (Print)

---
Approximate Dimensions


18"L X 12"W X .03"D (Flag)

11X14" (Art Print)

---
---
---
---
| | |
| --- | --- |
| Main Colors | red/green/blue |
---
Please note: Free Shipping applies to orders placed within United States only, including Alaska and Hawaii and all territories. Free shipping does not apply to international orders.


Product Information

& Return Policy



Satisfaction Guarantee! Please view our return policy if, for any reason, you are not 100% satisfied with your purchase.
Copyright mark is there to help prevent unauthorized sales and to help protect consumers from purchasing low quality knock-offs featuring my artwork. These marks do not appear on the actual poodle painting flag or art print.
Flag stands are not included, but can be found easily and inexpensively in small and large department stores and online.

About My Brand

Rescue Dogs are Better flags and art prints are made using the highest quality materials and all of them feature one of a kind artwork by me, Brooke Faulder.
All Rescue Dogs Are Better flags are not only rich in quality, but rich in design and detailed artwork, which will enhance any outdoor space with color and splendor!
Rescue Dogs are Better is more than just dog art! It's a mission! We'd like to de-stigmatize rescue dogs and shelter dogs to help people realize the wonderful companions they're missing out on.
We hope when you're researching your next best friend, you'll consider starting your search with a rescue group or looking on petfinder!
More About
Rescue Dogs Are Better

Rescue Dogs Are Better was established by me, Brooke Faulder.
I started selling my artwork in 2003 using several different e-commerce sites along with setting up at specialty shows and vendor booths.
Since starting out I've sold tens of thousands of flags, art prints, mouse pads, checkbook covers and custom original paintings.
You'll also find my work on store shelves in the form of jigsaw puzzles by SunsOut and Bits and Pieces and in catalogs and specialty stores.
I do occasionally take custom orders for commissioned paintings if you'd like to have your dog/s immortalized in oil paint. Use the form below to contact me!

Thanks so much for stopping by!
As always, please consider the benefits of adopting a rescue or shelter dog if you're thinking of getting a new best friend.
More Fun with Dogs!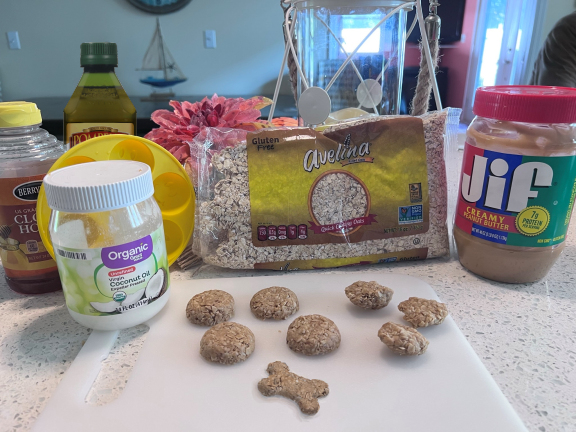 This delicious, no-bake dog treat recipe is healthier than store bought, uses ingredients you probably already have at home, and you can make it gluten free!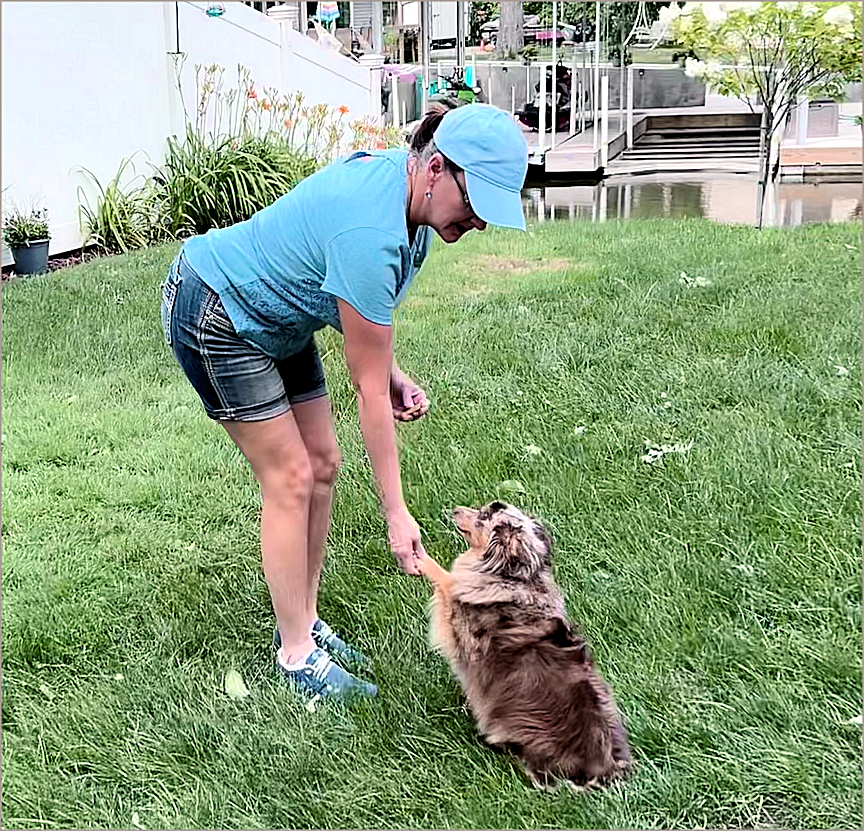 Nothing is more important to the relationship your share with your dog than training. Learn these easy training techniques and some cool tricks, too!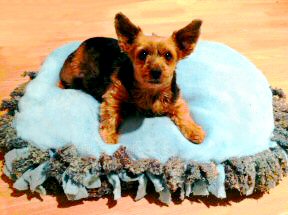 Learn how to make this super cute, no-sew dog bed with the materials you already have at home. Better than store bought!
Have questions or need help placing an order? Please fill out the form below and I will answer as quickly as possible!