Chinese Crested Pictures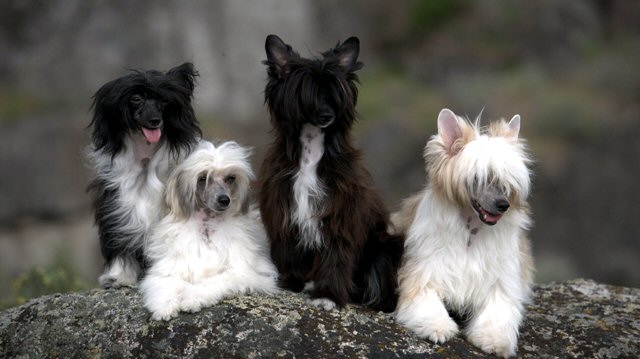 Beautiful Powderpuff Chinese Crested dogs!
To see more gorgeous Chinese Crested pictures, be sure to check out our Chinese Cresteds here.
Powderpuffs and Hairless
Welcome to our Chinese Crested pictures page! Chinese Cresteds are a very photogenic breed. Be sure to stop back often. New pictures will be added regularly.
Many of the pictures were sent in by people just like you who've visited this site. If you'd like to see a picture of your own Chinese Crested added to our pages, contact us for submission instructions. We'd love to hear from you!

..
---
Check out all the Chinese Crested pictures we've accumulated, of both the hairless and the powderpuff!

| | |
| --- | --- |
| Oh, how Julie is missed. She was my own little rescue girl and I loved her like no other dog. | My first Chinese Crested, Julie |
| | |
| | |
| Zoey is a very sweet little girl. She is a hairless Chinese Crested with apricot furnishings. | This was Zoey after she'd taken her clothes off. She got used to wearing them eventually. Especially after learning that being dressed was way more fun than being cold! |
This is Zoey as an adult, summer of 2014. Her puppy pictures are above. She's lost about 5 pounds since this photo.
The vet said "Beneful is like Fruit Loops for dogs", so I changed her food to Nulo. She's much more active now and seems happier and healthier!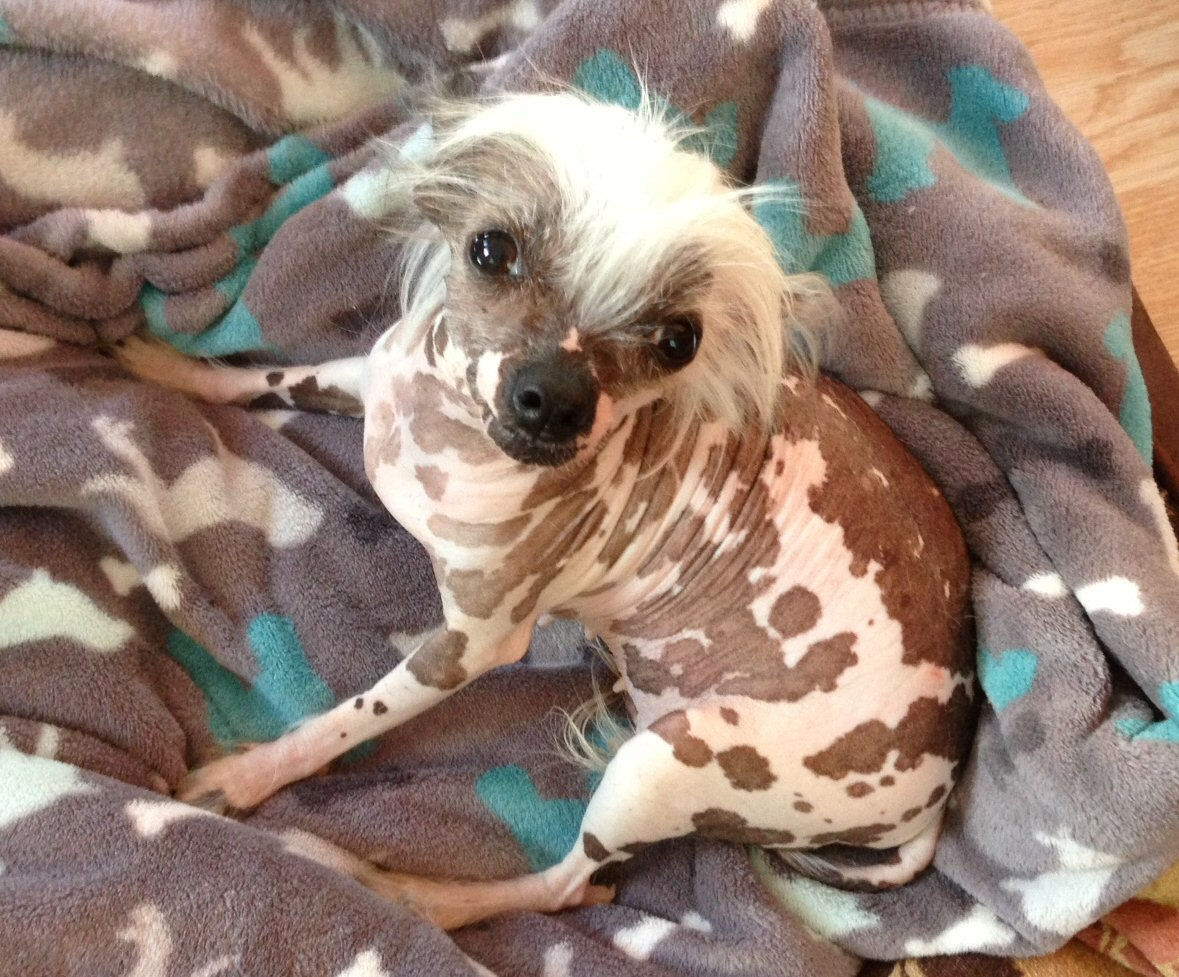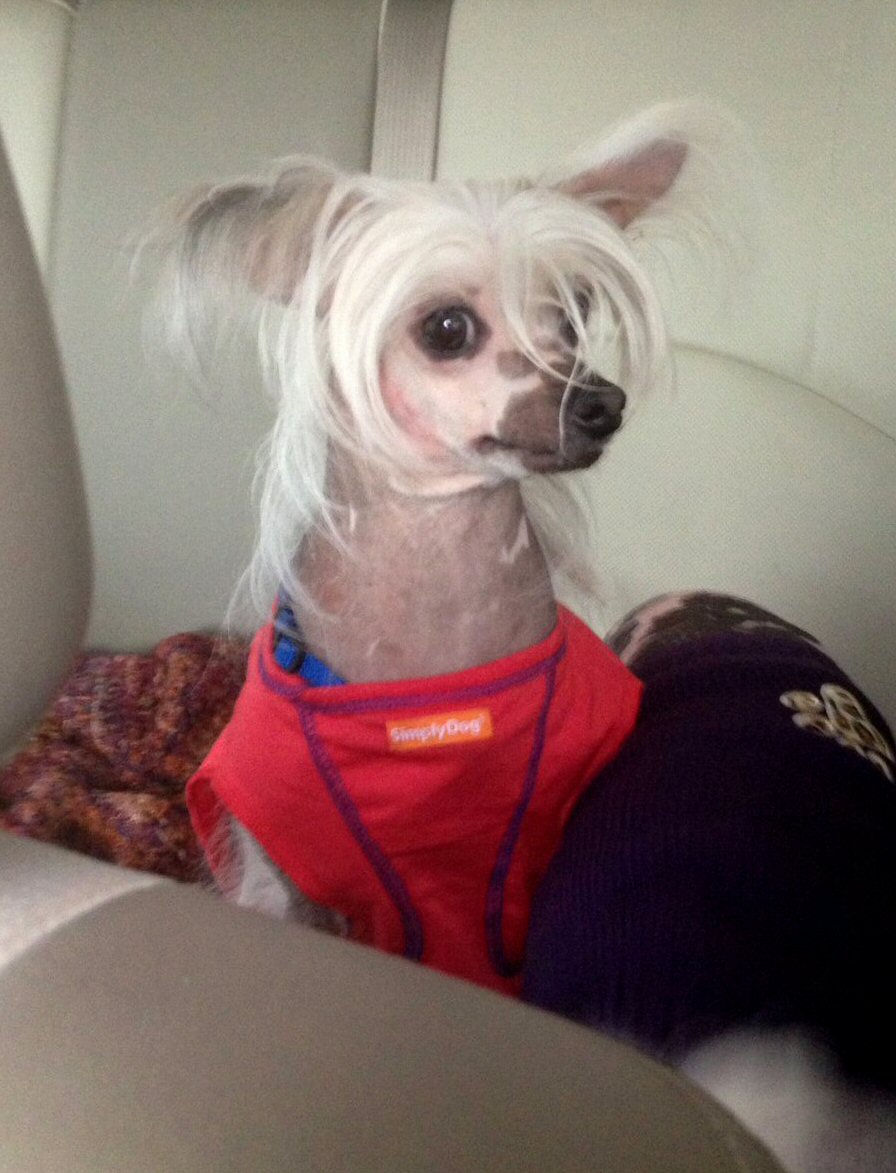 Above are the two newest girls I adopted. Brooklyn on the right is so happy that she doesn't live her entire life, day after day in a cage any longer. She brings so much joy with her antics and her crazy hair days! Dottie on the left is quite a stinker, too! So happy to have both of these girls in our lives!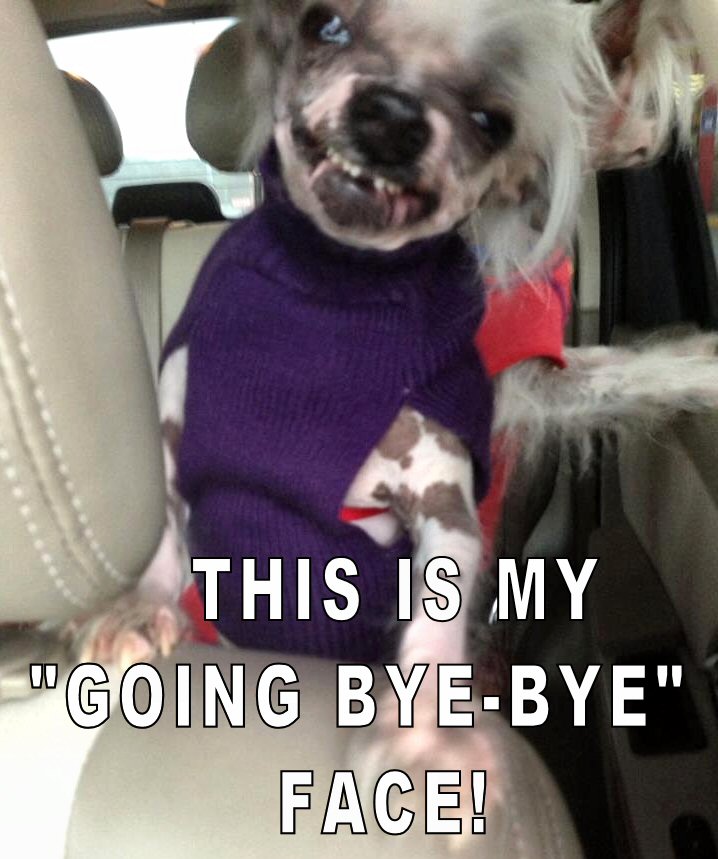 Dottie LOVES to go bye-bye! Yes, she smiles! This is her "bye-bye face" :)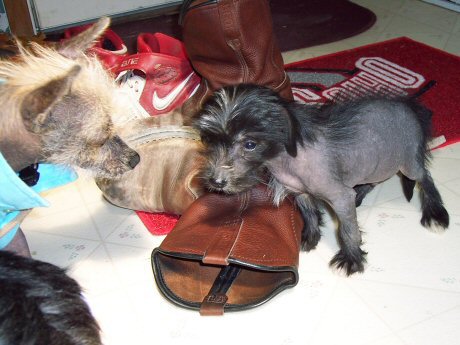 Yet another rescue puppy. I visited a puppy mill that was near me because I wanted to help place any retired breeders before they were "extinguished" in their later years (when they could no longer produce puppies)... that's when I came across this little guy. I noticed a problem with his ears right away. He had deformed ear canals, or should I say he had no ear canals at all, just flaps of ears on the sides of his head.
Oh, how puppy mills make me sad. Please choose rescue! There is no other more rewarding way to get a dog! PLEASE BELIEVE ME!!!
Peppy, the little black puppy is considered a hairy-hairless! Yes, that's really what they're called. He was a spunky little guy! I placed him with Chinese Crested rescue who raised money for his surgery to "open" his ear canals... and I'm sure he's found a great new home since then!
So happy I found this little guy before his breeder discovered his medical condition. She would have surely killed him. Last I heard, her massive breeding operation was raided and closed down!!! WOOO HOOOO!!!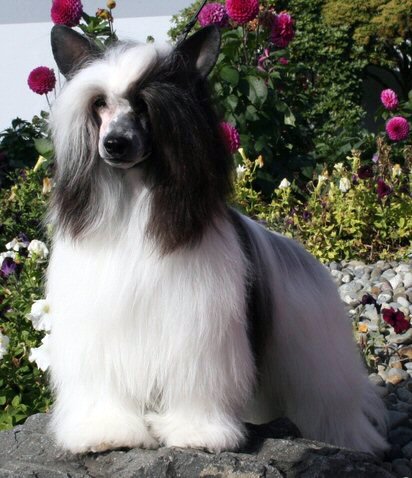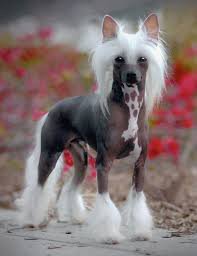 Just as impressive and majestic as the hairless, the powderpuffs have the same temperament with fewer inherent downfalls.
The hairless gene brings with it the likelihood of missing teeth and bad skin. Blackheads and acne are a hypothetical probability with a hairless - as well as the need to cover them to avoid sunburn and being chilled.
Most of the Chinese Crested show dogs you see making the circuits today are either very hairy hairlesses or powderpuffs. They're groomed like the picture above on the right, shaved and ready to win!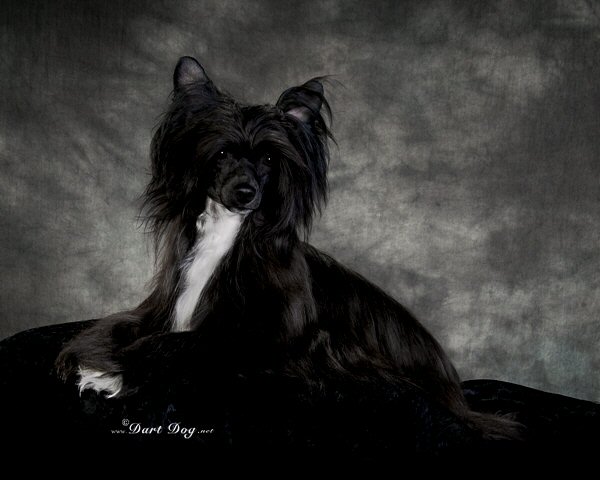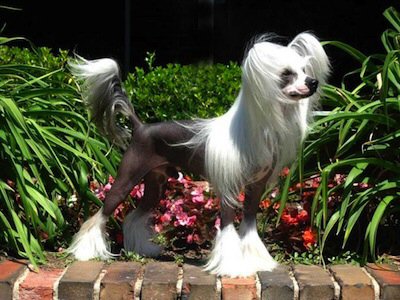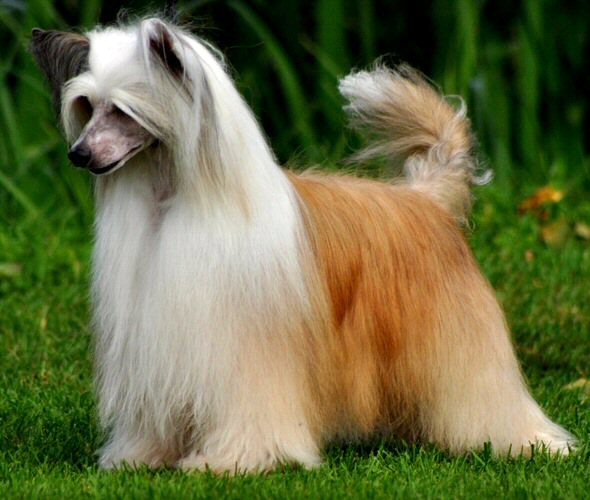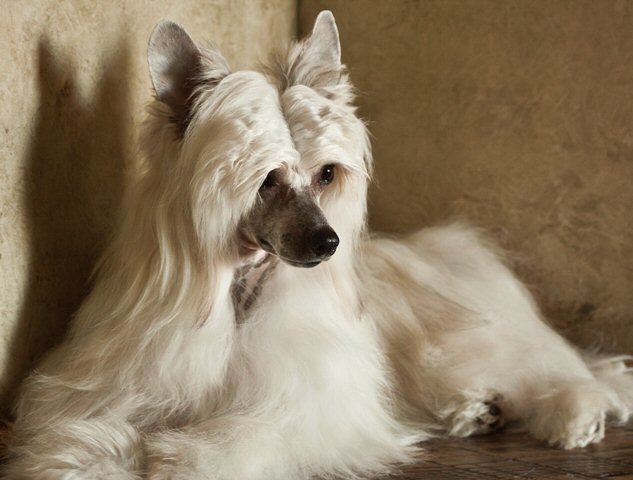 More breathtaking Chinese Crested pictures coming soon! Stop back often!
Don't forget to check out breed information page!
See Chinese Crested art and garden flags and learn how I rescued 3 Chinese Cresteds with one simple trick!

Once you've decided this is the best breed for you, we hope you'll decide that adopting is the smartest choice! And it IS! Learn why here!