Yorkie Pictures
Welcome to our Yorkies picture page!
Each picture was sent in by viewers to our site. If you'd like to see a picture of your own Yorkshire Terrier added to our pages, contact us for submission instructions.

While you're here, be sure to check out Yorkie Breed Information for great advice, what to expect and a host of useful products perfect for small breed dogs.


---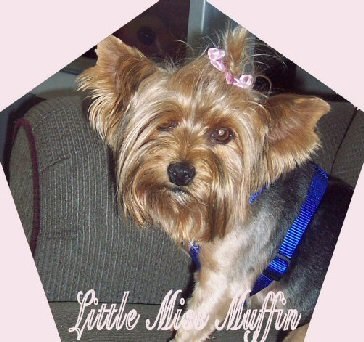 Little Miss Muffin... Her momma's pride and joy! Just home from the groomer and she's almost got the bow out of her hair already.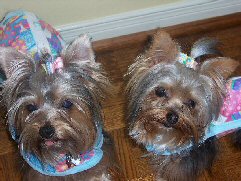 Tango and Cash in matching outfits with coordinating bows. How adorable is that?!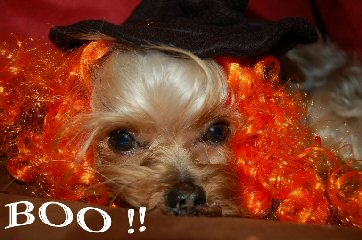 Halloween 2006, Cash- trying out his new look. We think it's a keeper.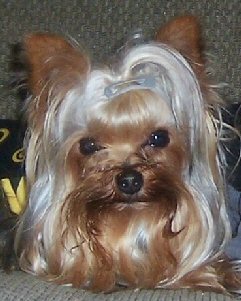 Cash- au natural is just your style! Who needs wigs with a 'do like that?!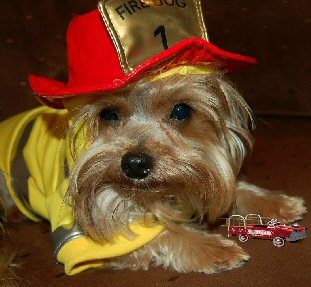 Tango, the fireman- Who said dalmations were the only dogs allowed on the fire truck? We think Tango's the perfect man for the job!




Miss Photogenic-
Ginger lives in Atlanta, Georgia with her 4 doggie sisters.




Baby Abby- Her momma LOVES to take pictures! Below is another picture of Abby... see how much she's grown!






Abby's a little older now... still just as adorable! Bet she's hiding her raw hide under the Santa hat! Holly will sniff it out!





Even on her daddy's lap, Abby finds a way to keep the raw hide from her sisters... Bet she even fell asleep with it!





Holly's close-up! Holly keeps her momma on her toes! Her hobbies include, chasing squirrels, visiting the neighbors and stealing treats from her sisters. We love ya Holly!





More pictures are coming soon so be sure to stop back. Don't forget to contact us for submission instructions if you'd like to see a picture of your own Yorkies within these pages.
If you don't yet own a dog, but you'd someday like to, our Best Breed for You page could be just the answer you're looking for. You'll find links to breed information about Yorkies and other small breed dogs to help you discover the best breed for your family and your lifestyle.