Affenhuahua


Dogs, Puppies and all there is to know...


Affenhuahua - Bones Chart

| | |
| --- | --- |
| Trainability | |
| General Breed Health | |
| Easy Housebreaking | |
| Low Maintenance? | |
| Good w/Other Pets | |
| Non Shedding* (read below) | |




*Non-shedding in this hybrid mix could go either way. While the Affenpinscher half of this dog breed is considered non-shedding, the chihuahua half does shed. There is no way for any breeder to guarantee a completely non shedding dog with this hybrid mix.
Affenhuahua= Affenpinscher / Chihuahua
Part Affenpinscher, part chihuahua, the Affenpinscher-Chihuahua mix could acquire their physical characteristics or personality traits from either parent and can be any ratio of the mix, 50-50, 75-25, and so on.
These breeds are very similar in size, but temperament could be anyone's guess. The easiest way to get the characteristics that will fit in well with your family and lifestyle is to adopt an adult dog whose personality and breed characteristics are already known.

The best way to determine the type of dog that might result from this mix is to learn as much as you can about both breeds. Then if you choose to adopt, learn how to get the dog with the characteristics you desire the most by reading more below.
Looking for an adorable mixed breed dog like the Affenhuahua?
One of the best things about this hybrid breed is that the commonality of the chihuahua makes it an easy dog to find in shelters, rescues, classifieds, petfinder.com, etc... They are super easy to find. There are countless chihuahuas and chihuahua mixes waiting on their forever homes!
Don't blame the dog.
Rescued dogs are dogs who've lost their homes through absolutely no fault of their own. They simply had bad owners, an owner who died, had to move, didn't have time to spend with them or train them, etc... You name it, dogs lose their homes for the saddest reasons.
The good news is...
When you rescue, you'll get a dog whose been  cared for, housebroken, leash trained, updated on shots and medical needs, etc! Plus you'll know up front if the dog is good with children, other pets, his size, his personality.... Everything!
Mixed Breed dogs are mixed breed dogs, period.
Unscrupulous dog breeders looking to cash in on the current fad of "designer dog breeds" will do and say anything to make you think that the way they've mixed their dogs is far superior than another random breeder or accidental breeding, etc.
You're smarter than that. There is no guaranteed method of forcing dogs to copulate in a manner which will ensure the best traits from each parent.
Don't be fooled.
Don't let anyone trick you into paying hundreds or even thousands of dollars for a mixed breed, hybrid or so-called "designer" puppy. There is no justification to buy a puppy when countless mixed breed dogs are dying in shelters by the millions every year. Learn more about mixed breed dogs and how they came to be...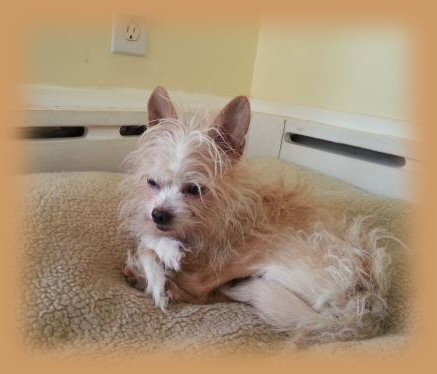 How to find an Affenhuahua to rescue.
Searching the rescue sites for an Affenhuahua and not having any luck? That's because there's technically no such breed. Petfinder.com and adoptapet.com can't keep up with the sheer number of mixed breed dogs that opportunistic breeders are inventing.
To find any "designer" breed of dog or hybrid dog on the rescue sites, simply type in Affenpinscher or Chihuahua. All the mixed breeds available for adoption will also be displayed.
There are also other ways of finding this dog breed!
Don't give up. If you've searched petfinder.com and came up empty handed for this particular mix, here are some other proven methods!

eBay classifieds and other classified websites and newspapers is a great way to find dogs in need of homes... just skip the puppy ads, for now. Remember if "affenhuahua" doesn't turn up any results, try searching for affenpinscher and chihuahua individually to find all the adorable purebreds and mixed breeds on the classified sites.
As I mentioned, ignore the puppies... for now. I know they're cute, but chances are astronomical that their parents are suffering in the horrendous conditions of a puppy mill. Learn more about puppy mills here.
When all other avenues are exhausted and you can't find an affenhuahua near you, try to find a breeder who sells this mix by searching google or your preferred search engine... but don't' inquire about a puppy.
Ask the breeder if she happens to be retiring any breeding dogs.
Because there are so many levels of F1 and F2 hybrid mixes, breeders will use the actual mixed breed dog, the affenhuahua, as a mating partner to a full breed dog... or the mating partner to another variation of the mix and so on. I've rescued most of my current babies this way.
Breeders breed and retire their dogs regularly. So many times when a stud dog is no longer proving himself or a female has been bred on every cycle for a couple of years, these dogs become "used up" to the breeder and he or she will dispose of them, in one way or another.
You could very possibly save a life by calling every breeder, even one who might currently be clear across the country.
Don't accuse.
Breeders are sensitive to the term "puppy mill" and won't be as receptive to you if you offer to 'rescue' one of their dogs. Simply explain that you prefer an adult dog and that you've been unable to find one. Most people who breed dogs and advertise on the internet will ship their dogs anywhere. So finding a dog in this way means that you could save a dog clear across the world!
Submit your Affenhuahua Pictures

More Mixed Breed Dogs / Non Shedding dogs